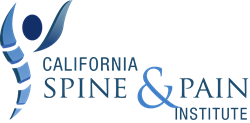 Over 95% of patients achieve pain relief within one week at CA Spine & Pain Institute!
Arcadia, California (PRWEB) May 14, 2015
California Spine & Pain Institute, the top pain management clinic in Southern California, is now offering over a dozen effective back pain treatments. New options include radiofrequency ablation and spinal cord stimulator implants, which are offered by Board Certified, highly skilled pain doctors. Call (818) 208-3686 for more information and scheduling.
Ninety percent of individuals will experience back pain at some point, with an unfortunate few ending up with chronic pain. This may lead to lost time from work and a hard time participating in recreational activities. With the exceptional amount of options available at the San Fernando pain management clinic, over 90% of back pain patients receive excellent relief.
Both medication management and interventional procedures are available and are individualized to each patient's needs. Radiofrequency ablation has been a revolutionary addition to back pain treatment, as it may provide consistent pain relief for up to eighteen months at a time. Facet and medial branch blocks also work great for relief.
For those patients who have failed back surgery, then a spinal cord stimulator implant may provide relief and minimize the amount of pain medications necessary. The implant changes the way the brain perceives pain signals, shifting pain to a tingling feeling. The treatment can truly change a person's life.
California Spine & Pain Institute has seen 95% of patients achieve relief within one week of starting treatment. This is largely due to the skill level of the treating Los Angeles pain management physician. There are four pain management clinics in Arcadia, West Hills, Encino and Los Angeles.
Most insurance is accepted at the practice including PPO's, personal injury, workers compensation and self pay as well. Call (818) 208-3686 for more information and scheduling.