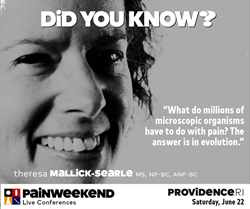 MONTCLAIR, N.J. (PRWEB) May 15, 2019
PAINWeekEnd on June 22 at the Renaissance Providence Downtown Hotel, 5 Ave of the Arts, in Rhode Island, will be an educational and exciting program providing busy clinicians and allied healthcare practitioners with 6.0 hours of relevant, practical instruction in the management of chronic pain.
In Rhode Island, updated regulations intended to make the prescribing of opioids more judicious and safe—while still treating patients in pain appropriately and compassionately—are in effect. The state requires 40 hours every 2 years in AMA PA Category 1™ credits; included are 2 hours on universal precautions, end of life education, palliative care, ethics, or pain management, among others. [Please note: Practitioners are responsible for contacting their relevant state boards to see if PAINWeekEnd courses meet the necessary requirements for CME credits.]
As regulatory efforts continue to steer patients and practitioners away from opioid therapy for pain, there has been a corresponding increase in interest in other treatment modalities, including nonprescription analgesics. At PAINWeekEnd Providence, Alexandra McPherson, PharmD, MPH, will present her course The 411 on Nonprescription Analgesics: When to Hold 'Em, When to Fold 'Em, about which she commented, "Patients frequently opt to use a nonprescription analgesic to self-treat a painful complaint, yet often do not have all the facts, such as potential exclusions to self-treatment or how to select the best analgesic from a sea of countless options. In this session, we'll investigate the mechanism of action, indications, adverse effects, and precautions of oral and topical nonprescription analgesics, along with key patient counseling points when recommending a nonprescription analgesic." Dr. McPherson will also present 3's Company: COX-2 Inhibitors, Medicinal Marijuana, and Opioid Prescribing.
Other courses to be offered at PAINWeekEnd Providence are Falling Down the Rabbit Hole: A Primer for Chronic Pain Management and Substance Abuse Disorders; No Guts, No Glory: Mystery of the Microbiome; Precise Prescribing: Applying the Science of Pain to Treatment Decisions; and Medical & Recreational Cannabis: What's a Clinician to Do?
Commercially supported activities—addressing a range of product, disease state, and medical information topics—will also be presented.
Online registration fee for this PAINWeekEnd Conference: $129. PAINWeekEnd registrants may register for the 2019 PAINWeek National Conference, September 3-7, in Las Vegas, for $200 off the regular online published price. Go to PAINWeekEnd to register.
PAINWeekEnd is provided by Global Education Group. About Global Education Group:
Global Education Group focuses on producing partnership-based CME for healthcare practitioners. The Global team works with a select group of medical education companies, associations, academic institutions and healthcare facilities to develop and accredit live healthcare conferences and workshops as well as online activities. With each partnership or joint providership, Global brings accreditation expertise, project management excellence and grant funding intelligence. Based in Littleton, Colo., Global has accreditation with commendation from the ACCME. Global also holds accreditations to offer continuing education for nurses, nurse practitioners, pharmacists, dietitians, dentists and psychologists. Global is a division of Ultimate Medical Academy.