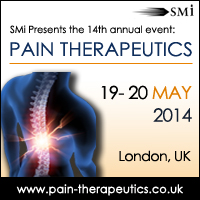 "It's an excellent forum for networking and discussion" – OGBConsulting
London, UK (PRWEB UK) 20 March 2014
SMi Group have worked together with an esteemed panel of speakers including KOLs from Merck, Janssen Pharmaceuticals, Imperial College London, Mundipharma, Nektar Pharmaceuticals, Morpheus and Eli Lilly, to put together the conference agenda for the 14th annual Pain Therapeutics event taking place on 19th and 20th May in Central London.
"It's an excellent forum for networking and discussion" – OGBConsulting
The programme will examine key areas such as assessing new mechanisms from bench to bedside, enhancing the translation of animal data into pain patients, advances in opioids, neuropathic pain, plus much more.
Conference highlights include an exclusive keynote address from Janssen Pharmaceutical Medical Leader, Dr Kathleen Kelly. Dr Kelly will be presenting attendees with Phase 2 efficacy and safety data for Fulranumab and will also be discussing nerve growth factors with a focus on antibody inhibitors, injury and inflammation.
This event will aim to:

Discuss and evaluate the latest new therapeutic mechanisms from bench to bedside with key insight from Merck, Spinifiex, Eli Lilly, AbbVie and UCB
Deliver key presentations from Mundipharma, Nektar and Morpheus Pharmaceuticals on advances to opioids and strategies to reduce abuse potential
Explore the latest in the area of Neuropathic pain for 2014 with the latest case studies from Neuroscience Technologies and GW Pharmaceuticals
Evaluate the translation gap with case studies from a pre-clinical and clinical perspective from Karolinska Institutet and OGB Consulting
The 14th annual Pain Therapeutics email will also feature two interactive post conference workshops taking place on Wednesday 21st May 2014 at the Holiday Inn Regents Park Hotel, London:
How Can Success in Analgesia be Improved | 08.30 - 12:30
Workshop Leaders:
Steve Harrison, Vice President, Research Biology, Nektar Pharmaceuticals
Birgit Priest, Research Advisor, Eli Lilly
Opportunities for Collaborative Pain Projects | 13:30 - 17:30
Workshop Leader:
Fiona Boissonade, Head of Neuroscience, University of Sheffield
For further information on the programme, speaker line-up or to register, visit http://www.pain-therapeutics.co.uk
PAIN THERAPEUTICS
19TH – 20TH MAY 2014
HOLIDAY INN REGENTS PARK HOTEL, LONDON UK
http://www.pain-therapeutics.co.uk
About SMi Group
Established since 1993, the SMi Group is a global event-production company that specializes in Business-to-Business Conferences, Workshops, Masterclasses and online Communities. We create and deliver events in the Defence, Security, Energy, Utilities, Finance and Pharmaceutical industries.
We pride ourselves on having access to the world's most forward thinking opinion leaders and visionaries, allowing us to bring our communities together to Learn, Engage, Share and Network. We hold events in over 30 major cities throughout the world including London, Paris and Singapore and to date have welcomed over 200,000 participants from 80 countries.
More information can be found at http://www.smi-online.co.uk