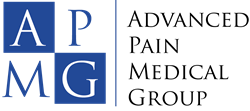 Advanced Pain Medical Group offers medication management and interventional procedures at thee locations in the Valley!
Thousand Oaks, California (PRWEB) January 07, 2015
The top pain management group in the San Fernando and Simi Valley, Advanced Pain Medical Group, is now accepting over ten PPO plans. New ones include Cigna and Humana to go along with the existing Aetna, Blue Cross, Blue Shield, United, and more. For more information and scheduling with top pain management in the Valley, call (818) 208-3686.
Advanced Pain Medical Group provides comprehensive treatments with two Double Board Certified pain doctors, who offer both pain medication management and interventional procedures. All in all, over twenty five treatment options are provided which are customized to the patient's needs. This is able to produce the best outcomes.
According to Advanced Pain Medical Dr. Paul Johnson, "There are so many variables and numerous factors when dealing with pain. It's not just the physical aspects but the emotional, psychological and mental – so it's really very critical to get to know the patient on an individual basis because what works for one person will not necessarily be appropriate for the next."
Cutting edge treatment options are available such as spinal cord stimulator implants, radiofrequency ablation, several types of epidural injections, intrathecal morphine pain pumps and more. All types of conditions are treated such as back and neck pain, RSD, migraines, neuropathy, spinal stenosis, arthritis, failed back surgery, fibromyalgia and scoliosis too.
Advanced Pain Medical Group provides treatment at three locations in Simi Valley, Thousand Oaks and West Hills CA. Appointments are readily available for those in need by calling (818) 208-3686.