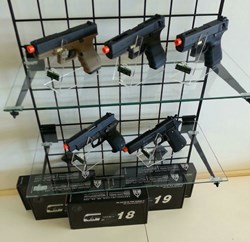 Due to the high demand for paintball and airsoft in the area, we thought it was imperative to open the Nanuet location - Chris K.
Nanuet, NY (PRWEB) September 26, 2013
New Breed Paintball and Airsoft will hold the grand opening of its new location in Nanuet on October 11th. At the grand opening customers may be able to win hundreds of dollars in prizes which may include: masks, goggles, guns, etc. The new location is stocked with the latest and greatest in the paintball and airsoft industries. Paintball and airsoft enthusiasts can stop in to the new location starting September 30th for all their paintball and airsoft needs and a wide variety of new products.
New Breed Paintball and Airsoft is one of the largest airsoft and paintball stores in the tri-state area with a 3,500-square-foot facility and thousands of unique products to choose from. They have the fairest prices in the industry, comparable to online prices.
The recently opened Nanuet location is just minutes from most major highways in the area, including the New York Thruway and Garden State Parkway. They are located right on Rt. 59 5 miles from the Palasades Mall at 350 Rt. 59, Nanuet, NY.
Product offerings at the new Nanuet location will be expanded to include pellet and BB guns. They will also buy, sell and trade used guns. Ask about their airsoft gun and paintball gun specials. New Breed Paintball offers law enforcement and military discounts with some of the greatest law enforcement and military gear in stock. They also fix paintball and airsoft guns with some of the best quality repair and customer service around.
Contact New Breed Paintball by calling 845-507-0811 or visit New Breed's Website. They are one of the leading retail locations in the paintball and airsoft industry and offer great sales and repair services at their stores. Stop by the new Nanuet Location or the original Fair Lawn, NJ location. They are the place for all of your airsoft and paintball needs. Visit them today at 350 Rt. 59, Nanuet, NY.
About the Company:
As paintball and airsoft enthusiasts, New Breed Paintball and Airsoft knows what players need and love. Their team eats, sleeps and breaths this stuff. At New Breed, they pride themselves in having a large and diverse selection of paintball and airsoft equipment. They not only sell the coolest toys, but fix them, too.