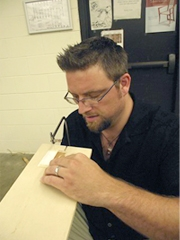 We have the training and experience to repair any furniture issue along with the passion to give your furniture the care it deserves
Edina, MN (PRWEB) March 03, 2015
Da Vinci Restoration repairs and refinishes furniture, conserves oil paintings, and focuses on restoring your family heirlooms. Their staff is classically trained in the Smithsonian principles of restoration and conservation from the National Institute of Wood Finishing, the only accredited furniture restoration program in the nation.
"Our Painting Restoration artist was trained at the Palazzo Spinelli Firenze in Florence, Italy. Her expertise allows her to clean and re-varnish paintings, fix tears, restore damage, and make your artwork look like new again," says owner Daren Steneman.
Da Vinci Restoration also helps interior designers and other designers to use their customer's existing furniture, customizing it to match their updated room's new style.
Da Vinci Restoration also specializes in: chair regluing and structural stabilization, veneer repair, upholstery repair, table refinishing and more. Da Vinci handles a wide range of repairs from fixing small scratches to changing the color of an entire piece to even crafting replacement parts. They also restore and repair sculptures that are cracked, broken, scratched, or water damaged.
"We have the training and experience to repair any furniture issue along with the passion to give your furniture the care it deserves," says Steneman.
For more information and to contact Da Vinci Restoration to schedule a free estimate, please call:
Da Vinci Restoration
5247 Edina Industrial Blvd,
Edina MN 55439
612-518-3626
http://www.davincirestoration.com
JGM Properties works with over 200 tenants, including Da Vinci Resoration to provide office, warehouse, and retail space for lease in the Minneapolis St Paul metro area. JGM Properties owns and manages the Pakwa Business, as well as two-dozen other suburban Minneapolis warehouse, and office space properties.