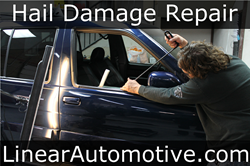 Best Paintless Dent Repair in Wylie, Murphy, Parker, and Lucas, Texas
Wylie, TX (PRWEB) April 28, 2014
Due to a recent hailstorm in North Dallas, Linear Automotive is ramping up its efforts to expedite the hail damage repair process as smoothly and quickly as possible. Earlier this month a hailstorm ripped through the McKinney area damaging many automobiles. The cars came pouring in and the shop was able to service a wide range of vehicles. Visit the website at LinearAutomotive.com or call 972-633-2201 for more info.
Two more bay areas have been cleared out and prepped in order to receive hail damaged vehicles from this latest storm. Anyone needing paintless dent repair in Lavon, Murphy, Parker, or Wylie, Texas will be glad to know this facility accepts and works with all insurance companies. In fact, the shop manager has been talking about posting a rating and scoring chart on how well the insurance companies responded during the last hailstorms that came through North Texas earlier in April.
PDR, otherwise known as paintless dent repair is the process of removing hail damage and/or dents from an automobile without the use of sanding, bondo, or paint. In some cases the damage may be too severe and some painting might be required. The estimating manager will be able to let a customer know when this situation comes up. In most cases the dents and dings left behind from a hail storm can be removed by an experienced professional.
Finding a professional that provides quality paintless dent repair in Parker, Wylie, Murphy, or Lavon, Texas is as simple as looking online at reviews to see what people are saying. Websites like Yelp often reveal a thing or two about any given company. Facebook is also another way to see how a hail damage repair company is doing. Customers often have good things to say and praise local outfits that are doing a good job.
If someone is looking for affordable paintless dent repair in Murphy, Parker, Lavon, or Wylie they will find that Linear Automotive provides the best hail damage repair around. The state of the art facility has all the latest tools and technology which is used by highly trained and experienced experts. Visit the website at LinearAutomotive.com or call 972-633-2201 for more info.