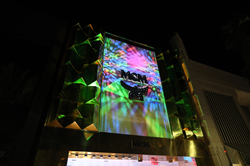 PaintScaping used 3D projection mapping to transform MCM Rodeo Drive into a retro disco.
BEVERLY HILLS, Calif. (PRWEB) March 21, 2019
3D mapping has taken over luxury brands, and BMW, Gucci and Tiffany & Co. can't get enough.
PaintScaping, a global leader in 3D projection mapping, once again projected on world-famous Rodeo Drive in Beverly Hills, California.
On March 14, 2019, luxury brand MCM threw a monster bash, for the Grand Opening on their new flagship store. Aside from the slew of celebrities, Rodeo Drivers enjoyed a 3D mapping of MCM's gold-themed façade. PaintScaping transformed the storefront into a cool display of retro disco fx.
This is not PaintScaping's first rodeo…on Rodeo. The 3D mapping powerhouse previously transformed the iconic corner of Rodeo Drive and Via Rodeo – one of the most photographed in the world -- into a winter wonderland.
PaintScaping also brought Tiffany & Co.'s Grand Re-Open to life using dancers interacting with projection mapping. Jennifer Garner, Reese Witherspoon, and Halle Berry all got to enjoy the spectacle.
PaintScaping closed the Tiffany event by projecting for surprise performer Ariana Grande.
PaintScaping's foray into luxury is not limited to the famed street. BMW, Porsche, Louis XIII cognac, and Ritz-Carlton have all hired PaintScaping for their events or campaigns. Even the most recent Gucci commercial, featuring Jared Leto and Lana Del Rey, relied on some PaintScaping magic.
"We aim to be the premier 3D mapping company for luxury life-styles," says Philippe Bergeron, CEO of PaintScaping and no stranger to the glamour and glitz of Hollywood. Indeed, Bergeron is also an actor, with roles in Iron Man 2, Mad Men and The Sopranos.
The love affair between luxury and 3D mapping is just beginning.
To see more of PaintScaping 3D Projection Design projects, visit paintscaping.com.
About Philippe Bergeron
Philippe Bergeron is founder and CEO of PaintScaping, a global leader in 3D projection mapping. PaintScaping has done mapping in the USA, Mexico, Canada, France, Ireland, and South Africa. Bergeron, a native of Montreal with a B.S. and M.S. degree in computer science from the University of Montreal, remains a 3D mapping innovator and invited presenter for numerous industry events.
About PaintScaping
PaintScaping is the industry leader in 3D mapping. Founded in 2009 by Philippe Bergeron, the Los Angeles-based company has produced unique 3D mapping shows across the U.S. including Orlando, Los Angeles, Las Vegas, New York and Chicago, and many places around the world. Among its many clients are MGM Resorts, Ritz-Carlton, Sony Pictures, Westin Hotels, Caruso Affiliated, and Cirque du Soleil.
Philippe Bergeron is available for interviews.
Video and photos are also available on request.
Media Contact:
marketing(at)paintscaping.com