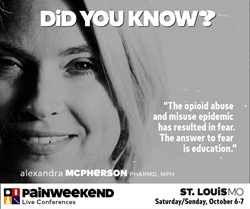 We have a world of generic drugs, we have no generic patients. Each patient should have the opportunity to have a patient specific, patient focused, patient centered personalized care plan
MONTCLAIR, N.J. (PRWEB) September 11, 2018
Following the hugely successful PAINWeek National Conference, PAINWeekEnd regional meetings return! PAINWeekEnd on October 6 and 7 at the St. Louis Union Square Station Hotel, 1820 Market Street in Missouri will be an educational and exciting program providing busy clinicians and allied healthcare practitioners with 12.0 hours of relevant, practical instruction in the management of chronic pain. The Missouri Board of Registration for the Healing Arts requires 50 hours of CME and 50 hours of AMA PRA Category 1™ to be completed every 2 years.
On July 6, 2018, Missouri Governor Mike Parson signed new legislation addressing the crisis of opioid abuse in the state. The new regulations limit opioid prescriptions for acute pain to a 7-day supply, establishes a state-wide drug take back program, and directs the Department of Health and Senior Services to develop an education and awareness program on drug disposal by August 2019. Provisions to improve access to treatment for opioid addiction area also included in the new law. At PAINWeekEnd St. Louis, Robert Barkin, MBA, PharmD, FCP, DAPM, will be presenting The Right Drug, the Right Patient, the Right Time. Dr Barkin stated: "We have a world of generic drugs, we have no generic patients. Each patient should have the opportunity to have a patient specific, patient focused, patient centered personalized care plan." At PAINWeekEnd St. Louis, he will also present The Dynamics of Managing Acute Postoperative Pain in the Current Opioid Sparing Environment.
Other courses to be offered at PAINWeekEnd St. Louis include Lost in Translation: Making Sense of Clinical Treatment Guidelines; The Role of Advanced Practice Providers in Acute Pain Management; Mirror, Mirror on the Wall: Graded Motor Imagery to Treat Complex Regional Pain Syndrome; Rational Polypharmacy: An Update for Specific Conditions; Medical Cannabis: Focus on Pain Management; How Central is Central Post stroke Pain?; Year of the Locusts: The CDC Guidelines Impact on Practitioners and. Patients; 3's Company: COX-2 Inhibitors, Medicinal Marijuana, and Opioid Prescribing; Migraines A-Z; and The 411 on Nonprescription Analgesics: When to Hold 'Em, When to Fold 'Em.
Commercially supported activities—addressing a range of product, disease state, and medical information topics—will also be presented.
For more information about this or other regional conferences, and to register for $199, go to the PAINWeekEnd website. BONUS: PAINWeekEnd registrants may register for the 2019 PAINWeek National Conference, September 3-7, in Las Vegas, for $200 off the regular online published price.
PAINWeekEnd is provided by Global Education Group. About Global Education Group:
Global Education Group focuses on producing partnership-based CME for healthcare practitioners. The Global team works with a select group of medical education companies, associations, academic institutions and healthcare facilities to develop and accredit live healthcare conferences and workshops as well as online activities. With each partnership or joint providership, Global brings accreditation expertise, project management excellence and grant funding intelligence. Based in Littleton, Colo., Global has accreditation with commendation from the ACCME. Global also holds accreditations to offer continuing education for nurses, nurse practitioners, pharmacists, dietitians, dentists and psychologists. Global is a division of Ultimate Medical Academy.