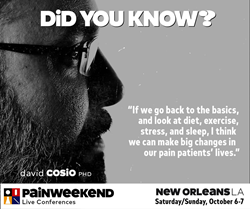 Newer regulatory guidelines...recommend that first-line treatment for acute and chronic pain should be nonopioid analgesics as an initial trial, emphasizing the need to optimize multimodal analgesia...
MONTCLAIR, N.J. (PRWEB) September 11, 2018
Following the hugely successful PAINWeek National Conference, PAINWeekEnd regional meetings return! On October 6 and 7, at the Hyatt Centric French Quarter, 800 Iberville Street, in New Orleans, Louisiana, PAINWeekEnd will be an educational and exciting program providing busy clinicians and allied healthcare practitioners with 12.0 hours of relevant, practical instruction in the management of chronic pain.
The Louisiana State Board of Medical Examiners requires 20 CME credits and 20 AMA PRA Category 1™ credits annually. As a component thereof, practitioners holding a Controlled Dangerous Substances (CDS) license must fulfill a 1-time requirement of 3 hours of approved CME covering the following topics: best practices for the prescribing of CDS, drug diversion training, appropriate treatment for addiction, and the treatment of chronic pain. This CME must be completed by the prescriber's 2019 license renewal date. In July 2017 Louisiana joined other states in enacting legislation to limit first time prescriptions of opioids for acute pain. Governor John Bel Edwards also signed 2 bills strengthening the state's prescription drug monitoring program and creating an advisory council to develop policy recommendations on opioid misuse.
At PAINWeekEnd New Orleans, Courtney Kominek, PharmD, BCPS, CPE, will present a wealth of information on the intelligent de-escalation of opioid therapy, and the engagement of alternative analgesics for pain management. Nonopioid Analgesics: Antidepressants, Adjuvant Therapies, and Muscle Relaxants will introduce attendees to a range of agents that may provide additional pain relief by opioid-sparing effects, and in treating the comorbid conditions which often present with chronic pain. Dr. Kominek observed, "Newer regulatory guidelines, like the CDC Guideline for Prescribing Opioids for Chronic Pain, recommend that first-line treatment for acute and chronic pain should be nonopioid analgesics as an initial trial, emphasizing the need to optimize multimodal analgesia including nonpharmacologic interventions to improve outcomes." Dr. Kominek will also lead a discussion of when to taper or discontinue opioid therapy, and how to implement the change, in her course Walking the Line: Opioid Dose De-escalation.
Other courses to be offered at PAINWeekEnd New Orleans include Pain Pathophysiology Unraveled; A Comedy of Errors: Methadone and Buprenorphine; Get Your Specimens in Order: How to Avoid Bad Company and Tame the Paper Beast Associated With Testing Drugs of Abuse; Pain Diagnostics: Clinical Pearls to Improve Common Tests for Pain; Trainwreck: Addressing Complex Pharmacotherapy With the Inherited Pain Patient; Embrace Changes and Prevent Overdose: A Basic Blueprint for Legal Risk Mitigation and Response; Falling Down the Rabbit Hole: A Primer for Chronic Pain Management and Substance Abuse Disorders; The Other Opioid Crisis: Fentanyl and Heroin; The Gentle Art of Saying No: How to Establish Appropriate Boundaries With Chronic Pain Patients; and The Regulatory Agency Will See You Now.
Commercially supported activities—addressing a range of product, disease state, and medical information topics—will also be presented.
For more information about this or other regional conferences, and to register for $199, go to the PAINWeekEnd website. BONUS: PAINWeekEnd registrants may register for the 2019 PAINWeek National Conference, September 3-7, in Las Vegas, for $200 off the regular online published price.
PAINWeekEnd is provided by Global Education Group. About Global Education Group:
Global Education Group focuses on producing partnership-based CME for healthcare practitioners. The Global team works with a select group of medical education companies, associations, academic institutions and healthcare facilities to develop and accredit live healthcare conferences and workshops as well as online activities. With each partnership or joint providership, Global brings accreditation expertise, project management excellence and grant funding intelligence. Based in Littleton, Colo., Global has accreditation with commendation from the ACCME. Global also holds accreditations to offer continuing education for nurses, nurse practitioners, pharmacists, dietitians, dentists and psychologists. Global is a division of Ultimate Medical Academy.