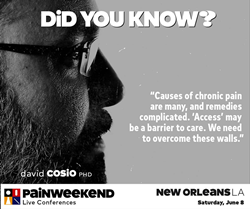 ...patient and provider education programs and communication interventions may improve outcomes in pain management...
MONTCLAIR, N.J. (PRWEB) May 14, 2019
PAINWeekEnd on June 8 at the Hyatt Centric French Quarter, 800 Iberville St., New Orleans, Louisiana, will be an educational and exciting program providing busy clinicians and allied healthcare practitioners with 6.0 hours of relevant, practical instruction in the management of chronic pain.
The Louisiana State Board of Medical Examiners requires 20 CME credits and 20 AMA PRA Category 1™ credits annually. As a component thereof, practitioners holding a Controlled Dangerous Substances (CDS) license must fulfill a one-time requirement of 3 hours of approved CME covering the following topics: best practices for the prescribing of CDS, drug diversion training, appropriate treatment for addiction, and the treatment of chronic pain. This CME must be completed by the prescriber's 2019 license renewal date. In July 2017 Louisiana joined other states in enacting legislation to limit first time prescriptions of opioids for acute pain. Governor John Bel Edwards also signed 2 bills strengthening the state's prescription drug monitoring program and creating an advisory council to develop policy recommendations on opioid misuse. [Please note: Practitioners are responsible for contacting their relevant state boards to see if PAINWeekEnd courses meet the necessary requirements for CME credits.]
At PAINWeekEnd New Orleans, David Cosio, PhD, ABPP, will present Unveiling the Mask: The Relationship of Chronic Pain and Psychopathology. Research has shown that chronic pain is most often associated with depression, anxiety, and somatoform, personality, and substance use disorders, but less is known about the relationship with other conditions, such as schizophrenia spectrum/psychotic, sleep-wake, bipolar, neurocognitive, obsessive compulsive, and dissociative disorders. Commenting on his course, Dr. Cosio said, "Given the high level of comorbidity between opioid use disorders and chronic pain, providers' decisions about how to address treatment with patients who may have mental health disorders are most important. In this session, we'll be exploring how patient and provider education programs and communication interventions may improve outcomes in pain management." Dr. Cosio will also present The Gentle Art of Saying No: How to Establish Appropriate Boundaries With Chronic Pain Patients.
Other courses at PAINWeekEnd New Orleans: Rational Polypharmacy: An Update for Specific Conditions; What's All the "GABA" About? Pregabalin and Gabapentin; Migraine Headache: New and Emerging Therapies; and 3's Company: COX-2 Inhibitors, Medicinal Marijuana, and Opioid Prescribing.
Commercially supported activities—addressing a range of product, disease state, and medical information topics—will also be presented.
The online registration fee for this PAINWeekEnd Conference: $129. PAINWeekEnd registrants may register for the 2019 PAINWeek National Conference, September 3-7, in Las Vegas, for $200 off the regular online published price. Go to PAINWeekEnd to register.
PAINWeekEnd is provided by Global Education Group. About Global Education Group:
Global Education Group focuses on producing partnership-based CME for healthcare practitioners. The Global team works with a select group of medical education companies, associations, academic institutions and healthcare facilities to develop and accredit live healthcare conferences and workshops as well as online activities. With each partnership or joint providership, Global brings accreditation expertise, project management excellence and grant funding intelligence. Based in Littleton, Colo., Global has accreditation with commendation from the ACCME. Global also holds accreditations to offer continuing education for nurses, nurse practitioners, pharmacists, dietitians, dentists and psychologists. Global is a division of Ultimate Medical Academy.