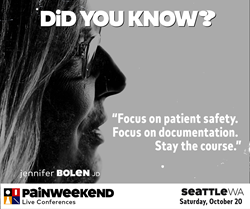 I look forward to sharing insights on pain physiology, pharmacology, interventional management, and complementary treatment modalities.
MONTCLAIR, N.J. (PRWEB) September 25, 2018
PAINWeekEnd on October 20 at the Grand Hyatt Seattle, 721 Pine Street, in Washington, will be an educational and exciting program providing busy clinicians and allied healthcare practitioners with 6.0 hours of relevant, practical instruction in the management of chronic pain.
Acting on a legislative mandate, the Washington State Medical Commission has recently concluded a public comment and hearing process on proposed changes to the state's opioid prescribing requirements for physicians and physician assistants. Finalization of the new rules is due sometime in Q4 of this year, with a proposed effective date of January 1, 2019. In a communication to its membership, the Washington State Medical Association sought support for its position that "…the WSMA remains concerned about the volume of administrative burden and liability these rules would place on physicians and physician assistants during the limited context of a patient encounter and the resulting impact on access to appropriate care. At PAINWeekEnd Seattle, Theresa Mallick-Searle, MS, NP-BC, ANP-BC, will be presenting Multidisciplinary Pain Management: Complex Cases, an examination of multidisciplinary engagement of the biopsychosocial model for pain management. "In this presentation, we will be reviewing complex case studies on common, otherwise challenging-to-manage pain syndromes such as chronic low back pain, postherpetic neuralgia, diabetic peripheral neuropathy, fibromyalgia, and migraine," she commented. "I look forward to sharing insights on pain physiology, pharmacology, interventional management, and complementary treatment modalities."
Mallick-Searle will be joined by PAINWeek senior faculty members Douglas Gourlay, MD, MSc, FRCPC, DFASAM, and Jennifer Bolen, JD, for the curriculum at PAINWeekEnd Seattle that will prepare attendees to respond to the changing regulatory landscape for prescribing. Course topics will include Role of All Practice Providers Involved in Pain Management in the Acute-Care Setting; A Comedy of Errors: Methadone and Buprenorphine; Get Your Specimens in Order: How to Avoid Bad Company and Tame the Paper Beast Associated With Testing Drugs of Abuse; Embrace Changes and Prevent Overdose: A Basic Blueprint for Legal Risk Mitigation and Response; and Cannabis vs Cannabinoids: The Politics of Medical Marijuana.
Commercially supported activities—addressing a range of product, disease state, and medical information topics—will also be presented.
For more information about this or other regional conferences, and to register for $129, go to the PAINWeekEnd website. BONUS: PAINWeekEnd registrants may register for the 2019 PAINWeek National Conference, September 3-7, in Las Vegas, for $200 off the regular online published price.
PAINWeekEnd is provided by Global Education Group.
About Global Education Group:
Global Education Group focuses on producing partnership-based CME for healthcare practitioners. The Global team works with a select group of medical education companies, associations, academic institutions and healthcare facilities to develop and accredit live healthcare conferences and workshops as well as online activities. With each partnership or joint providership, Global brings accreditation expertise, project management excellence and grant funding intelligence. Based in Littleton, Colo., Global has accreditation with commendation from the ACCME. Global also holds accreditations to offer continuing education for nurses, nurse practitioners, pharmacists, dietitians, dentists and psychologists. Global is a division of Ultimate Medical Academy.