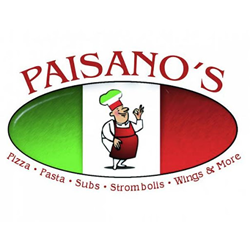 Not just pizza, but something for everyone!
(PRWEB) July 28, 2014
Fairfax County native and Italian restaurant entrepreneur Fouad Qreitem is excited to announce the most recent expansion of Paisano's Pizza. The new restaurant in Alexandria will be the 26th location of the growing casual dining chain. Paisano's Pizza serves a wide selection of pizzas, Italian entrees, and more.
This new Alexandria pizza establishment is excited to begin serving customers from areas such as Carlyle, Old Town, and Belle Haven. Paisano's Pizza, which is known for their slogan "Not just pizza, but something for everyone," provides customers with a diverse menu that includes much more than just pizza. Old Town residents can look forward to ordering a variety of pizza pies, as well as pastas, subs, wings, salads, classic Italian entrees, and desserts. Paisano's Pizza offers take-out, delivery, and can also cater for parties of all sizes.
Growing up in the restaurant business himself, Qreitem opened his first Paisano's Pizza in Fair Lakes in 1997, when he was only 23 years old. Since then, Paisano's Pizza has successfully expanded to 26 locations and is now considered a major component of the regional pizza restaurant market.
This new Paisano's Pizza location is located at 2012 Eisenhower Avenue, Alexandria, Virginia 22314. Those interested in delivery, catering, or menu inquiries may contact a staff member by calling (703) 548-6800.
About Paisano's Pizza - First established in 1997 in Fair Lakes, Paisano's Pizza continues to thrive as one of Virginia's top fast-casual dining and pizza restaurants. With a commitment to serving only the freshest ingredients, as well as delivering an honest product at an honest price, Paisano's Pizza serves pizza, subs, salads, Italian entrees, and many other food options on their extensive menu list.