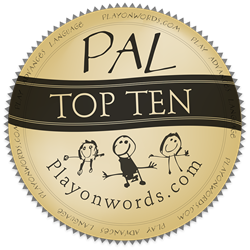 Southport, CT (PRWEB) November 04, 2015
Daily interaction with children guides Playonwords founder, Sherry Artemenko, to a unique set of the best toys, games and books that have the chemistry to develop language while delivering great play. Today, Playonwords is announcing the "Top 10 PAL Picks of 2015" by age and product category. Our Top 10 Picks take the guesswork out of gift giving for the holidays. Parents and grandparents are using our list to shop for smart toys with lasting play value.
Each product has been assessed and reviewed by Sherry with input from parents, kids and educators. Observing kids in action, combined with her critical eye for language potential, Sherry awards products and writes insightful reviews offering practical tips on how to maximize the educational value in each winner on playonwords.com.
Our 2015 Top 10's include a number of great winners that inspire rigor in story planning, creation and presentation. Whether constructing a colorful Build & Imagine magnetic paneled playscape, producing animated features with Wonder Forge's Storymation Studio, or coding your hero's winning moves through a Digital Dream Labs Puzzlets labyrinth, kids are positioned to strengthen cognitive foundations for reading, writing and general literacy development.
Sherry's expertise has been tapped by NBC Connecticut TV, Parents Magazine, The Chicago Tribune, San Francisco Chronicle, parents.com, parenting.com, mom.me, ASHAsphere (official blog of the American Speech Language Hearing Association), ASHA LEADER magazine, and ASTRA's blog, The Whoo Hoo Factor.
For Sherry, great play is not just about fun, or language development, it's about going deep on both. Her expertise has been built on science and more than 15,000 hours of client experience. Each set of Top 10's represents a breadth of themes and genres, but they all have one thing in common - they are trusted lists of fun products that boost learning through play.
Here are our 2015 TOP 10 PAL Picks:
TOP 10 TOYS: INFANT AND TODDLER

Activity Playmat Ladybug by Janod
Ambi's Fishing Boat by Galt Toys
Ambi's One Man Band by Galt Toys
Busy Builder Wagon by BKids
Colors Activity Book Owl by Janod
ELC Toybox Pull Along Zebra by International Playthings
French Cocotte Trolley Cooker by Janod
Jungle Fun Activity Cart by Alex Toys
My Pram Caterpillar by Janod
Sit-to-Stand Ultimate Alphabet Train by VTech
TOP 10 TOYS: PRESCHOOL

Alex Toys Jungle Fun ABC Play Mat
Alex Toys My Alphabet Puzzle
Beauty Belongings by Hape
Crayola Color Wonder Light Up Stamper
Kids First Automobile Engineer by Thames and Kosmos
Magnetic DIY Trolley by Janod
Multikub Farm by Janod
Ready, Set, Shapes! by Alex Toys
Smart Max Click and Roll by Smart Toys and Games
Take Along Zoo and Aquarium by Playmobil
TOP 10 TOYS: SCHOOL AGE

Bakery Shoppe Set, Furniture Fits 18" Girl Dolls by The Queen's Treasures
Creative Play House by Plan Toys
Disney Imagicademy Storymation Studio by Wonder Forge
Fairytale Theater by Build and Imagine
Frilled Lizard by Folkmanis
Go! Go! Smart Friends Busy Sounds Discovery Home by VTech
Maker Studio Construction Set by Thinkfun
Princess Palace by Janod
The "Painting" Teepee by Pacific Play Tents
TOP 10 GAMES: PRESCHOOL

Dinosaur Escape by Peaceable Kingdom
Disney Doc McStuffins Mix Up! Fix Up! Game by Wonder Forge
Hucklebee by MindWare
Koala Capers Game by Educational Insights
Journey Through Time Eye Found It! Game by Wonder Forge
Listen to Clues by Hape
Resulta by Hape
Tangram Tales by MindWare
Three Little Piggies by SmartGames
Tiggly Words by Tiggly
TOP 10 GAMES: SCHOOL AGE

Bid-A-Letter by SimplyFun
Dohdles! by Thames and Kosmos
FrankenWords by The Haywire Group
Pass the Rooby Roo! by SimplyFun
Pictopia: Star Wars Edition by Wonder Forge
Puzzlets by Digital Dream Labs
Rory's Story Cubes: Batman by The Creativity Hub Ltd.
Star Wars: The Force Awakens Star Destroyer Strike Game by Wonder Forge
Super Genius - Reading 1 by Blue Orange Games
Word Speed Dice Slide by Ideal/Alex
TOP 10 BOOKS

A New Friend for Marmalade by Alison Reynolds
Ally-saurus & The First Day of School by Richard Torrey
Disney Imagicademy Storymation Studio by Wonder Forge
Max's Math by Kate Banks
Mochu Says Goodnight by Kadho Inc.
Sleepytime Me by Fine and Denise
Sweet Dreams, Pout-Pout Fish by Deborah Diesen and Dan Hanna
The Cowboy by Hildegard Müller
The Not Very Merry Pout-Pout Fish by Deborah Diesen and Dan Hanna
Two Speckled Eggs by Jennifer K. Mann
Each holiday season, millions are spent on kids' toys, games and books. These PAL winners above are not only great fun but also encourage rich language development. Think "tastes like ice cream, fortifies like spinach," optimizing your toy purchases to build language while maintaining every bit of fun. Now's the time to be intentional about your child's toy chest, game drawer and bookshelf!
ABOUT PLAYONWORDS, LLC
Playonwords.com was founded by well-respected speech-language pathologist, Sherry Artemenko. Her 35 years championing language rich play, esteemed PAL Award, popular blog, and insightful tips to parents set her apart as the leading advocate of the language component in toys.
Over 15,000 hours working directly with children has shown her that a unique set of the best toys, games and books have the capability to develop language while delivering great play. Studies show:
Kids with highest IQs at three, had the most words at one and two
Language learning is cumulative – early words => early sentences => language & reading
Most kids maintain their verbal advantage through childhood
Creative pretend play that sparks story-telling can advance future literacy
Sherry established the PAL Award to identify unique toys, games and books that through their design, quality and character, encourage play that advances language. PAL winners in the hands of kids, spark fun and creative play with lots of talk. Such toys, recognized on the basis of her child development expertise, are complemented by practical coaching in her blog, showing parents and caregivers how to get the most from toys, games and books to build language and underlying cognitive skills.