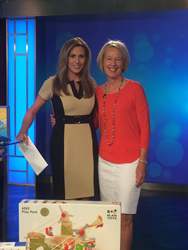 The Toy & Game world is lucky to have you as a champion of children's literacy.
Southport, Connecticut (PRWEB) June 27, 2014
Play On Words LLC, led by highly respected speech language pathologist Sherry Artemenko, announces 2014's Summer PAL Award Winners, the toy industry's only recognition directed by a credentialed speech-language expert recognizing the language learning edge in exceptional toys, games and books. Sherry's 35 years of child development experience with over 15,000 hours working with kids empower her PAL selections, popular blog, private practice, media appearances and consulting practice.
"I'm excited to see companies taking a closer look at their products to find the language learning potential for ALL kids to play together, while making it easier for parents by listing their toy's skills on the packaging or in learning guides in the box. Manufacturers are valuing my advice on how to use their toys to maximize learning, 'We can't wait to see what you think!' The PAL seal, awarded to global enterprises and start-ups alike, differentiates the companies who know the marketplace now demands products that are not only fun, but packed with learning potential. The PAL Award seal says just that."
See below our Summer 2014 Play Advances Language (PAL) Award Winners listed by language learning category.
EARLY DEVELOPMENT: Sherry's daily experience in pediatric speech therapy gives her an eye for the best products to build attention, vocabulary and concepts through play, preparing children for their first sounds, words and sentences. While tucking Miss Pink Star in for the night, moving and grooving to a first toddler game or opening and shutting a snail's magical shell, kids learn essential language skills.

Bebee's Ferris Wheel by B Kids
Enchanted Meadow Towel Doll by Kaethe Kruse
Forest Friends Shape Sorter by International Playthings
Miss Pink Star and Blanket by Corolle
Move and Groove by ThinkFun, Inc.
Nickibaby Striped by Kaethe Kruse
Owl Busy Buddy Blanket by International Playthings
Princess Play Set by International Playthings
Speedy's Magical Shell by B Kids
Stow 'n Go Kart by B Kids
Tiggly Stamp Interacting with Tiggly Shapes by Tiggly-Kidtellect, Inc.
Tolo Teatime Shape Sorter
Van Walker by Plan Toys
WOW Toys Mini WOW Line
Zeeland by International Playthings
LANGUAGE STRUCTURE AND REASONING: These outstanding products can build language structure and reasoning, often teaching vocabulary, concepts or grammar while delivering fun. Creating a story on a Black White Board, designing riddles for a treasure hunt or learning the language of science experiments, all strengthen communication.
Air + Water Power PLUS by Thames & Kosmos
Clifford Animal Science by the Young Scientist Club
Clifford Food Science by The Young Scientist Club
Dream Cakes by Ravensburger
Family Alias by Tactic Games
Finding Nemo Shark Alarm by Ravensburger
GET4 and Score by SimplyFun
Gone Shopping Game by Galt Toys
Junior Alias by Tactic
My Super Life Journal...By Me by PomTree
Noodle Speedoodle by Peaceable Kingdom
Our Day On the Town Sticker Storybook by PomTree
Over Under by Gamewright
Playful Chef Deluxe Cooking Kit by MindWare
Rory's Story Cubes -- MAX by Gamewright
Say the Word by Peaceable Kingdom
Science X Dinosaurs by Ravensburger
Show Me the Kwan by Griddly Games
Spot it! Alphabet by Blue Orange Games
Spot it! Numbers and Shapes by Blue Orange Games
Tapple by USAopoloy
The Extraordinaires Design Studio by The Creativity Hub Ltd.
uKloo Riddle Edition Treasure Hunt Game
Vibrobot by Thames and Kosmos
Who Am I? by Janod
XL Graffiti Black White Board by Janod
(PRE)READING: Completing words with missing letters, searching for objects beginning with a certain letter, or learning to write, children can pick up essential skills to promote reading.

Early Reader Treasure Hunt App by uKloo
Last Letter by ThinkFun, Inc.
Letter Slide by SimplyFun
MagnetiBook-Dinosaurs by Janod
Squirrels on Skis by J. Hamilton Ray, Illustrated by Pascal Lemaitre
Treasure Trax by USAopoly
Write and Learn Touch Tablet by VTech
Zingo! Word Builder by ThinkFun, Inc.
STORY-TELLING/ PRETEND PLAY: Whether adding a DIY touch to a dollhouse, creating a story through colored light projection, or riding the tram at a play park, children enter the world of pretend, creating their own stories with plenty of flexible props to guide their imagination. Oral story-telling precedes writing as kids learn the steps to create a good narrative.
Alpine Ridge Climber by Step2
Artzooka! Finger Peeps by Wooky Entertainment
Breyer New Arrival at the Barn
Camp Site by Playmobil
Connector Pen Bucket 50 ct. by Faber-Castell
Diaper Backpack by Corolle
Dinosaur Floor Puzzle by Galt Toys
DIY Dream House by Hape
Doodle Magic Color Mat by Crayola
Fairy Dressing Up Set by Galt Toys
Fashion Portfolio by PomTree
GoldieBlox and the Dunk Tank by GoldieBlox, Inc.
GoldieBlox and the Parade Float by GoldieBlox, Inc.
Great Outdoors Playhouse by Step2
High Seas Adventure Sand and Water Table with Umbrella by Step2
Kitchen Set by Plan Toys
Let's Make Pom Pals Pom Critter Kit by PomTree
Lyla Tov Monsters-Charlotte by Lyla Tov
Magnetistick Pirates by Janod
Marie Kruse Paris Stylista by Kaethe Kruse
Modular Toys 3D Racetrack Kit
Mon Premier Bebe Calin Maria by Corolle
Mon Premier Sky Stroller by Corolle
My First Shop by Lego
My Take Along Train by Playmobil
Nanoblock Great White Shark, Sea Turtle and Fiddler Crab
NightBuddies by Napa Valley Toys USA
On Safari Playset by Hape Toys
Paint a Tea Set by Galt Toys
Paint Your Own Porcelain Tea Set by MindWare
Pinypon Aquapark Adventure by Famosa North America, Inc.
Pinypon Figures and Pets 6 Pack by Famosa North America, Inc.
Pirate Ship by Plan Toys
Play Park by Plan Toys
Shadow FX Color Projector by Crayola
SMARTMAX Home Sweet Home by Smart Toys and Games, Inc.
Story Box-Safari by Janod
Story Firefighter Train by Janod
Tape-a-Doodle by Faber-Castell USA
Tape-a-Doodle Extreme by Faber-Castell USA
The Big Creativity Can by Faber-Castell USA
Green Toys Train
Under the Sea Blocks by Hape Toys
Unicorn Jewel Castle by Playmobil
SOCIAL LANGUAGE: Complementary to pretend play, social language blossoms when children play with toys that encourage extended social interactions. Working cooperatively on puzzles, building a fort, applying character lessons through doll play, using a snack set to spark math conversation promote social language skills.
4 Wheeling Super Sized Floor Puzzle by Ravensburger
Circus Puzzle by Janod
Counting Animals by Ravensburger
Fort Magic by Fort Magic LLC
My Friend Huggles Doll by Great Divide Corporation
My Little "h" Doll by Great Divide Corporation
Style Me Up! Sketchbooks Featuring Disney Characters by Wooky Entertainment
The Multiples Early Year Set by Realtimes Products LLC
Congratulations to our PAL Winners who are listening to their markets and delivering a powerful value proposition, namely, great language learning paired with play.
Visit the Play On Word Website to see all our PAL Award winners.
Each summer billions are spent on kids' toys, games and books. These PAL winners above are not only great fun, but also encourage rich language development. Think "tastes like ice cream, fortifies like spinach," optimizing your toy purchases to build language while maintaining every bit of fun. Now's the time to be intentional about your child's toy chest, game drawer and bookshelf!
ABOUT PLAYONWORDS, LLC
Playonwords.com was founded by well-respected speech-language pathologist, Sherry Artemenko. Her 35 years championing language rich play, esteemed PAL Award, popular blog, and insightful tips to parents set her apart as the leading advocate of the language component in toys.
Over 15,000 hours working directly with children has shown her that a unique set of the best toys, games and books have the capability to develop language while delivering great play. Studies show:

Kids with highest IQs at three, had the most words at one and two
Language learning is cumulative – early words => early sentences => language and reading
Most kids maintain their verbal advantage through childhood
Sherry established the PAL Award to identify unique toys, games and books that through their design, quality and character, encourage play that advances language. PAL winners in the hands of kids, spark fun and creative play with lots of talk. Such toys, recognized on the basis of her child development expertise, are complemented by practical coaching in her blog, showing parents and caregivers how to get the most from toys, games and books to build language and underlying cognitive skills.