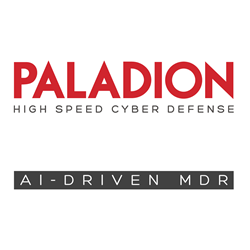 AI-Driven MDR is a best-in-class threat detection solution with a proven track record not only minimizing and containing threats, but also providing higher ROI for our customers
RESTON, Va. (PRWEB) October 17, 2019
Paladion, a global leader in AI-Driven Managed Detection and Response, is pleased to announce that it has been selected as the cybersecurity provider of choice by a healthcare technology leader to safeguard operations. This new client is an industry expert in providing value-based care rooted in technology and services. Paladion will provide high-speed cyber defense against a variety of attacks, including threat anticipation, threat hunting, and incident response.
"Our AI platform is developed using key learnings from our clients to deliver targeted cybersecurity innovation," said Vinod Vasudevan, CTO at Paladion. "We leverage key machine learning techniques to deliver high-speed threat detection and response across every stage of a threat's lifecycle. We are pleased to welcome our newest client and will continue to develop our services further to minimize and contain security threats."
Paladion has positioned itself as a leader in cybersecurity and defense. The Managed Detection and Response (MDR) solution uses advanced security analytics on endpoints, user behavior, application, and network to hunt for threats that signature and correlation-based security monitoring systems cannot detect.
MDR can detect attack campaigns before they result in a catastrophic breach, an area where traditional MSSPs often fail.
In addition, Paladion's MDR system can:

Reduce threat detection time by 80%
Reduce analyst effort by over 50%
Reduce time to respond to and remove threats by 85%
The amount of time savings is key to enable greater productivity. Since Paladion's AI-Driven MDR can actively hunt for threats, analyze and auto-contain it, an internal IT or security teams can focus on other tasks, saving your business both time and money.
"AI-Driven MDR is a best-in-class threat detection solution with a proven track record not only minimizing and containing threats, but also providing higher ROI for our customers," said Vasudevan. "We continue to utilize emerging technologies and industry trends to protect our customers."
MDR's AI platform and threat hunters continuously scour the full IT stack for threats. The analytics are performed on a unified application of data, breaking down silos, and allowing for deeper detection of threats.
The result is faster threat detection and response. The following are additional benefits of the system.

Threat anticipation: Anticipate potential threats in advance using contextualized data
Threat hunting: Identify and hunt stealth attack campaigns before they can cause a breach using AI-driven insights
Security monitoring: Monitor and protect your systems in real-time from known and current attacks.
Incident analysis: React to individual needs of a company based on high-level insights and industry trends
Auto containment: Machine learning algorithms allow you to contain attacks in minutes, not days.
Response orchestration: Evict attackers, eradicate threats, and advance your defenses faster.
For more information about Paladion's client partnerships and its Managed Detection and Response solution, contact us here.
About Paladion:
Paladion is a next-generation cybersecurity provider to technology, manufacturing, and cloud-first companies across the United States. They are consistently recognized and rated by independent technology advisory firms for their Managed Detection and Response Services, Cloud security, and Vulnerability Management & Response services, which is anchored by their patented Artificial Intelligence platform – AI.saac.
For more information, please visit http://www.paladion.net.