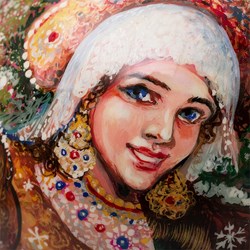 In Russia, no holiday is as loved as Christmas/New Year, and that is why these ornaments are the items that have propelled Palekh to the apogee of meaningful and prophetic beauty, and Saint-Petersburg Global Trade House is the only place to get them.
New York, NY (PRWEB) December 12, 2013
How does one capture the true inner world, the genuine soul of a people in a single inanimate object? Is such a thing even possible? An inveterate cynic inside those of us that have, as of yet, retained an ability to reason more or less coherently, would say yes, but only theoretically. Theoretically, because the maddening steeple chase through the never-ending phantasmagoria of feelings, events, places, colors, and sounds that come together to create an ethereal completeness, called "the people," is just like the concept of a mathematical limit, which exists, but can never be reached or completely encompassed. This cynic, however, would, for once, be wrong. The largest country in the world, Russia, more than most, if not all of the modern societies on the planet, presents itself as a boundless Universe of the said feelings and events, yet it is the people of Russia that, through the inexhaustible cornucopia of raw talent and vision, succeeded in "bottling" the pure essence of the Russian culture in simple, but out-of-this-worldly beautiful items, created in the picturesque and tiny settlement, by the name of Palekh.
There are several Russian crafts, namely Fedoskino, Kholuy, Palekh, and Mstyora, which make stunning papier-mâché and wooden, delightfully beautiful and elegantly dazzling items, each craft exhibiting its own, completely unique style. Most agree, however, it is Palekh that took the craft to the level above everyone else. The masters of Palekh have perfected the art of making unique lacquer boxes, jewelry, and other similar products, and now, at the pinnacle of their skill, took a step beyond that, a step that allowed them to actually reach the mythical "limit" in their super-limited edition collectible glass ball Christmas ornaments. Often, it is during the times of great celebrations that the people are able to show their true and complete self and in Russia, no holiday is as loved as Christmas/New Year - that is why these ornaments are the items that have propelled Palekh to the apogee of meaningful and prophetic beauty and Saint-Petersburg Global Trade House is the only place to get them.
Though they are Christmas tree ornaments, these hand-blown glass balls are made for serious collectors and are to be kept safely in their cases as prized items in a truly magnificent collection, containing the marvels of the world's handicrafts and to be, from time to time, marveled at by their owners. Having roots in the ancient art of icon-painting, Palekh miniature designs show the vividly multi-faceted Russian spirit in the intricately-irregular lines and shapes, as well as the genuinely proud history of a fierce nation that still finds old myths fascinating and the struggle to survive and thrive, despite any and all the tribulations gifted to it by the frugally pretentious fate - the only acceptable way of living. Coming together as a whole on Palekh's collectible glass ornaments, the motley conglomeration of wild and magical horses, brightly-colored heroes, mingling among the more ordinary-looking crowds, and of course, the beloved Russian Winter that through the ages has been the most loyal ally against the hordes of invaders and one of the best sources of entertainment throughout the year, in spite of staying strict and even vindictive to those who do not respect it, creates a picture of what authentic Russia feels like. Making these images truly all-encompassing is the eternal golden firebird, which is so important that it is immortalized on the flag of Palekh. The grand amalgamation of these and other explicit and implied nuances that duly unite within these seemingly simple, yet actually astonishingly complex ornaments, coupled with ultra low supply, generate unbelievable collector value that does not fade, but grows with each passing moment.
Just like Gabriel's Horn's (call it whatever you want, from the Horn of Plenty, to Cornucopia) infinite surface can never be seen in its entirety, but its finite volume can always be "felt" by the more inquisitive beings, it is not about seeing what Russia is like, but rather about feeling the boundless enigma that is Russia. And even though some riddles are destined to remain as such for eons, the riddle of Russia is finally beginning to unravel through the cooperation of New York's Saint-Petersburg Global Trade House and the grandmasters of Palekh. It will, however, take much more exploring and pondering, perhaps more pondering than can fit within one lifetime. But is that not actually a good thing?.. To paraphrase the words of a famous Russian poet, no mortal mind can ever understand Russia, for she can only be believed in… And so it doesn't… And so she is…
By Mikhail Kholodov.
About Saint Petersburg Global Trade House
Founded in 1994, Saint Petersburg Global Trade House takes its roots in Brooklyn, NY – the heart of NYC's Russian community. Saint Petersburg GTH takes great pride in the fact that it is the largest seller of Russian gifts, books, music, and movies outside Russia. The company offers products through its free colorful printed catalog, as well as operating brick-and-mortar stores in Brooklyn. The catalog is published quarterly in editions of 50,000 copies and can be requested by calling the toll-free number at 1-800-531-1037.
For additional information, visit http://www.fromrussia.com.