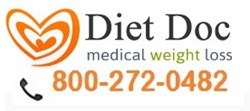 Diet Doc not only provides a customized diet plan, but also a range of products to aid clients in achieving lasting health.
New Orleans, LA (PRWEB) September 03, 2013
Diet Doc has added the highly effective, widely respected Paleo diet plan to their medical weight loss plans. Currently, Diet Doc individually designs fast weight loss plans around every client based on individual health factors. This individual approach allows for diet plans to be designed around the patient's own body functions in order to maximize effectiveness. The company first analyzes popular diets from around the world, taking the most effective parts of each before building a comprehensive master diet plan for each patient. This master diet plan focuses on using the most effective pieces of popular fast weight loss plans to perfectly coincide with each patient's individual health factors, the result being the most effective fast weight loss available.
This master diet plan is intended to assure safety, reliability, and effectiveness to patients seeking fast weight loss with their prescription diet plan, boasting an average of 1 pound per day of results per client. Available nationwide, Diet Doc offers this comprehensive diet plan, now including the popular Paleo diet to patient's across the country via the national Telehealth system. Now patients, even those whose location makes receiving great healthcare difficult can consult with expert fast weight loss physicians, as simply as making a telephone call. The Paleo diet derives its name from the Paleolithic era, basing its nutrition plan on what humans ate before becoming so advanced. 10,000 years ago, humans consumed a diet rich in vegetables and meat protein. The goal of the Paleo diet is to eat balanced nutrition and facilitate long term weight maintenance to prevent diseases like type 2 diabetes and heart disease. The premise of the popular Paleo diet is that the modern human body cannot adequately digest the farmed foods like grains, legumes, dairy, or refined sugars that modern humans widely rely on. In order to produce the best results, Diet Doc combines the most successful mechanisms of the Paleo diet with the most scientifically successful components of other diets like the Mediterranean diet.
Diet Doc focuses on providing medically supervised fast weight loss for disease prevention and to stave off the growing obesity epidemic, combining the most effective dietary plans known with personalized physician attention and if necessary prescription medication and dietary supplements. As a result, an individual diet plan is created and outlined for every patient. They offer the only modernized version of the diet proven to provide results with little to no reported side effects. With 34% of Americans considered obese, medical bills begin to mount as high blood pressure, diabetes, heart disease, and a host of other ailments result from carrying so much extra weight. Diet Doc not only provides a customized diet plan, but also a range of products to aid clients in achieving lasting health. While on this medically supervised program, clients can lose a pound-per-day, equal to invasive surgery and other extreme measures, yet without the inherent risk of medical procedures. Diet Doc's Medical Director, Dr. Nishant Rao commented on the abundance of support that clients receive, stating that "Diet Doc offers one month of prescription medication, one month of diet shakes, one month of diet cooking/salad dressing oil that is clinically proven to help dieters start burning fat within 30 minutes of consuming, along with the diet workbook outlining the modern-day version of the prescription diet and a cookbook, plus unlimited nurse, doctor and dietary consultant support 6 days per week priced lower than the leading non-doctor supervised nutrition plan." With unlimited consultations, Diet Doc has discovered that patients are much less likely to backslide into weight gain, finding that the most effective way to enact true, long-term, and life-changing fast weight loss is to keep dieters engaged, offering customers a variety of clinical and dietary support. They offer the nation's most modern medically supervised diet program, and provide patients with customized diet plans tailored to fit each individual.
Diet Doc Contact Information:
San Diego, CA
(800) 272-0482
Weight-loss(at)Dietdoc(dot)info
http://doctorsupervisedweightloss.com/diet-info.php
Twitter: DietDoc10