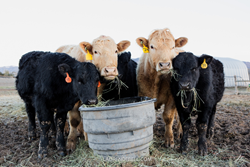 "Few people understand the difference between grass-fed and grass-finished.Yet it's so important for our health to have this knowledge."
Los Angeles, CA (PRWEB) October 21, 2014
The celebrated author and paleo and gluten-free advocate Tina Turbin is raising awareness about the difference between grass-fed and grass-finished meat with new blog posts and interviews featured on her paleo resource website (http://www.PaleOmazing.com).
"Few people understand the difference between grass-fed and grass-finished," Turbin says. "Yet it's so important for our health to have this knowledge."
As Turbin explains, "finished" is an industry term that is used to describe how an animal is fed up until slaughter. A finished animal will have at least a light layer of fat to show that it is growing properly. According to Turbin, "Grass-finished beef is raised on grass and forage diets for the span of its whole life, whereas grass-fed just means that the animal has eaten grass, which doesn't really mean anything as the grass could be poor quality and the animal could have done poorly on it." In her blog posts and reviews, Turbin advises that people consume grass-finished meat rather than grass-fed.
Most people see the label "grass-fed" without truly understanding what it means, but in fact, many of cattle in the U.S. are fed grasses. In her interviews, Tina digs deep into the distinction between grass-fed and grass-finished with penetrating questions. According to one recent interview, Rachel at 5280beef revealed, "Unless the label states that the beef product has been 'grass-fed and grass-finished,' there is a good chance the cow has been only grass-fed [and not grass-finished], which means it ate grass the first part of its life and was finished with grain."
Turbin is passionate about clearing up this misconception. She reveals, "The most popular grain used today in feeding cattle is corn, yet cows weren't meant to eat corn and corn is predominantly GMO. Yet the average consumer is under the false belief that when they buy a so-called 'grass-fed' product in the supermarket, they're getting a grass-finished one."
Grass-finished beef may be more expensive than grain-fed or grain-finished beef, but according to the author, it's important to understand grass-finished meat because it contains the proper balance of omega-3 to omega-6 fatty acids. "There are many benefits that come with consuming a proper quantity of omega-3s, including anti-aging benefits," Turbin says.
An avid celiac advocate, Turbin swears by her "paleo-ish" lifestyle as a means of clearing up her health issues associated with celiac disease and aging. Eating plenty of healthy fats and quality, grass-finished meat is an important part of her lifestyle.
"It wasn't until recently that I myself learned the difference between grass-finished and grass-fed," Turbin says. "I'm hoping that this information will help others in the celiac and paleo communities make better choices about their meat consumption."
###
To Book Tina Turbin for an Interview or Speaking Engagement: Please contact mailto:pr(at)thePRGroupEast-West(dot)com.
About Tina Turbin: Tina Turbin is a renowned, multi-award-winning author, baker and cook. Turbin is a well-known celiac advocate who researches and writes about the benefits of the gluten-Free, paleo-ish and keto diets and is the award-winning recipe developer and owner of Paleomazing.com. Tina has released award-winning eBooks, multi award-winning children's titles and thousands of articles. Tina also founded GlutenFreeHelp.info, voted #2 .info site in the world in 2009 out of over 6.7 million other .info sites, which she turned over to her celiac daughter, Miranda Jade Turbin, in 2012. Turbin is the renowned author of the multi-award-winning children's book, audiobook, DVD and apps under the titles, Danny the Dragon Meets Jimmy and Danny Dreams.
http://www.PaleOmazing.com
Follow Tina on Facebook, Twitter, Pinterest, LinkedIn, Google+ and Instagram! Check out her videos on YouTube!