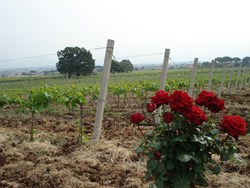 We text each other every day, so why not text your wine too.
New York, NY (PRWEB) July 23, 2013
This week historic Lazio wine producer Principe Pallavicini­ launched a program allowing consumers to get instanteous information about their wines by ­texting the wine they are interested in while in the store.
Consumers text the wine's short code to 70197 and receive an immediate response from the wine, explaining the origin and tasting notes of that particular wine. The vintage- and varietal-specific responses help consumers decide if Principe Pallavicini's Lazio wines are the right fit for them.
The program comes to the United States after success in European markets.
"This is a great way to interact with our customers when it matters most - when they are actively looking for a bottle of wine," says Principe Palavicini Export Manager Claudio Latagliata, "We wanted to give people a way to easily understand what our Lazio wines are about without asking them to download an app or QR reader. We text each other every day, so why not text your wine too."
Currently, the program offers vineyard location and tasting notes for the 2012 and 2011 vintages of Principe Pallavicini's white varietals and the 2011 vintage of their red wines. However, Principe Pallavicini hopes to expand the type of information available over the coming vintages.
Principe Pallavicini is imported exclusively by Vias Imports and is available nationally.
The Principe Pallavicini short codes to text to 70197 are:
2012 Frascati DOC: PP fs2012
2011 Frascati Superiore DOC: PP fs2011
2012 Poggio Verde Frascati Superiore DOCG: PP pv2012
2011 Poggio Verde Frascati Superiore DOCG: PP pv2011
2011 Syrah Lazio IGT: PP sz2011
2011 Casa Romana Rosso Lazio IGT: PP cr2011
About Principe Pallavicini
The Principe Pallavicini winery was established by the Pallavicini family, one of Italy's oldest noble families. With over 300 years of viticultural experience, the family focuses on the development of the winemaking business in order to produce wines of impeccable quality in the magical, inimitable Lazio terroir. To this end, renovations were initiated in the family's historic Colonna cellars and ­Marmorelle vineyards in the 1980s. The refining of the wine takes place on the Marmorelle farm, where an old stable has been ­restored and equipped for drying grapes used to make raisin wine, while grottos hold the barrel, cask and bottle chambers. The cellar has been designed to focus the utmost attention on this conclusive phase of the winemaking, utilizing a combination of traditional and modern techniques. Principe Pallavicini currently offers Frascati, Poggio Verde Frascati Superiore, Syrah and Casa Romana Rosso in the United States.