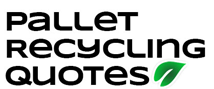 We only exist to save trees and make our customers awesome at recycling.
Atlanta, GA (PRWEB) September 30, 2014
PalletRecyclingQuotes.com was designed to help businesses recycle or buy standard 48"x40" shipping pallets or odd sized pallets. The website's main purpose is to keep pallets out of landfills and make it easier for businesses to recycle and buy pallets.
The PalletRecyclingQuotes.com team is available for businesses to discuss solutions for buying pallets and pallet recycling. They promote the fact that by recycling your wood pallet, you can make shipping goods more sustainable and achieve a reduction in pallet replacement costs, and prevent wood from going into the landfill.
Since launching PalletRecyclingQuotes.com they have recycled enough pallets to save millions of trees. In addition to this, they are transforming the way the industry does business. Wooden pallets, have been used for decades are considered by many to be sustainable, but the fact is that pallets comprise the second highest category of woods that enters landfills.
Founder Gareth Amon says "We only exist to save trees and make our customers awesome at recycling."
About Free Recycling Quotes
Companies and people trust and use FreeRecyclingQuotes.com as their one stop source for recycling. FreeRecyclingQuotes.com is dedicated to helping companies and organizations become green by providing them the highest quality recycling services. FreeRecyclingQuotes.com helps save the environment by providing expert advice to businesses of any size that need to recycle materials and waste.