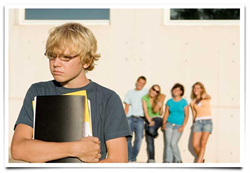 Bullying has been a huge issue in our school systems for quite some time and I felt partnering with The Stop Bully Now Foundation, Inc. was a must for our community program.
North Palm Beach, FL (PRWEB) April 21, 2015
With a new charity campaign in South Florida, Blanchard Insurance Agency has teamed up with The Stop Bullying Now Foundation, Inc. and announced a new charity campaign to raise awareness and funds to the organization. Blanchard Insurance Agency is starting this campaign to help the organization put an end to bullying among today's youth by empowering counseling, life skills training, open communication and creative outlets. Donations to the organization can now be made through the campaign's page at http://www.greggblanchardinsurance.com/Stop-the-Bullying-in-North-Palm-Beach_16_community_cause.
The Stop Bully Now Foundation, Inc. mission is to raise money for school districts around Northern Palm Beach County to address and eliminate the ongoing dangerous student-bullying problem that often causes death, mental and physical harm as well as forcing students to drop out of school. The Foundation plans to use the donations to make bullying awareness for K-12 by having professional Psychiatrists and Psychologists as well as Mental Health Experts visit and speak at the schools to the students on a regular schedule.
Through its vast network of loyal customers, staff, business partners, friends and family, Blanchard Insurance Agency will bring awareness to the epidemic of bullying, giving others the opportunity to contribute, and become active agents of change. The initiative is another display of the agency's commitment to striving to keep those around them always in good hands.
"Bullying has been a huge issue in our school systems for quite some time and I felt partnering with The Stop Bully Now Foundation, Inc. was a must for our community program. It was important that we brought awareness to this remarkable local organization. I encourage all of our customers and professional friends to join forces with us to help put an end to bullying," said Gregg Blanchard, the Agency's principal.
The campaign will be heavily promoted over the course of the next 40 days, through the agency's social media channels, email and text message communications, as well as through their monthly magazine, delivered to thousands of households in South Florida, where the agency currently operates. Our Hometown magazine reserves a full page to feature Howell's story, and other details. The electronic Flipbook version of the current issue can be accessed here: http://greggblanchardinsurance.com/Our-Hometown-Magazine_41.
Blanchard Insurance Agency asks the support of all of those who are able to make a donation. Any and all the help is valuable and greatly appreciated by The Stop Bully Now Foundation, Inc. Supporters are encouraged to visit http://stopbullyingnowfoundation.org/main/ and also share the page with friends and family.
The Community Program held by Blanchard Insurance Agency will continue to feature a new cause every 60 days, in an effort to rebuild, restore and offer relief to the community. In many cases, the agency will work with local nonprofit organizations, to elect families and individuals in need to receive such support, but an open channel has also been established at agencyhelpsyou(at)gmail(dot)com, so other members of the community can bring to the agency's attention a specific need, known to them. More information regarding past and current campaigns supported by Blanchard Insurance Agency can be found at http://www.greggblanchardinsurance.com/community-cause.
About Blanchard Insurance Agency
Gregg Blanchard started his Allstate Agency in 2007 with hopes of giving back to his community and focusing on protecting his customers. Today, his agency focuses on providing excellent customer service to every family and individual who come to them in need of insurance and other financial services. Always driven to find the best solutions for their customers, the knowledgeable staff at Blanchard Insurance Agency welcomes the opportunity to serve their community in any way they can. To contact an expert at the agency, call (561) 627.1707.