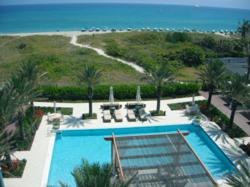 A condo that was originally offered at $900,000 at the peak of the market is now $400,000
Miami, FL (PRWEB) April 10, 2012
A boutique oceanfront condo tower that was lost to foreclosure in early 2010 has ended up in hands of the Federal Deposit Insurance Corporation (FDIC) after the Comptroller of the Currency closed Corus Bank on September 11, 2009. The sale was announced by Kevin Dickenson, a Palm Beach real estate agent who specializes in distressed assets, the FDIC is now selling condos to the general public at deeply discounted prices.
The FDIC bank owned Florida condo offering includes 34 remaining units with three different floor plans. A two bedroom condo that was originally offered for $900,000 at the peak of the market is now $400,000 representing a 66% discount. "I toured the building with the FDIC in 2010, and it was apparent that the original developer ran out of money by the time he got to the inside," said Dickenson. "They asked my opinion, and I basically told them to start over and do a high end finish out to match the grand exterior architecture of the building." The group had access to interest free funds; therefore the idea was to keep the tower until the market turned and then sell units to the general public.
"The successor developer retained a prominent decorator to upgrade the common areas, and he achieved the wow factor from the moment you drive through the big wrought iron entry gates," said Dickenson. As evidence of pent up demand, the south penthouse closed two weeks ago for $1.7M even though the common areas of the building are still under construction. This was a prime 3,295 square foot oceanfront model that was decorator furnished with 3 bedrooms, 3.5 baths and a massive 679 square foot wrap around balcony. Dickenson noted that the amenity level should be completed in 30 days.
When asked if the FDIC would consider bulk sale of the entire building, Dickenson replied, "Anything is possible and I'm sure they will entertain all offers. If you're an end user, you should act quickly because a hedge fund could scoop up the entire building overnight."
If you're wondering if it's the right time to buy a Florida bank owned condo, be sure to read the Miami and Fort Lauderdale Real Estate Condominium Market Report 2011.
To see a video of this boutique oceanfront condo, visit http://www.kevindickenson.com. Kevin Dickenson is a realtor with Prudential Florida Realty who specializes in distressed assets from Palm Beach to South Beach and Naples. He is in the Top 20 realtors with over $24M closed in 2011.