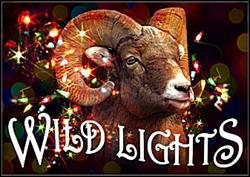 WildLights is one of our signature holiday events in the Coachella Valley.
Palm Desert, CA (PRWEB) November 16, 2016
Brad Schmett, of Brad Schmett Real Estate Group and Keller Williams Realty announced today that the 10th Annual WildLights at the Living Desert Zoo in Palm Desert scheduled for November 23-December 24, on select nights from 6 PM to 9 PM will bring in luxury home buyers looking for family homes and estates that surround the breathtaking and pristine area on the south side of the Coachella Valley.
More than 750,000 twinkling lights illuminate the park creating a magical and stunning holiday aura. One of the favorites is the Tunnel of Lights where guests can take a walk under a canopy of brilliant blinking and flashing lights all set to favorite holiday music tunes. Taking a ride on the trackless train or riding the magnificent, old-fashioned carousel are other favorite activities that guests enjoy. Campfires, hot toddies, hot chocolate, and plenty of delicious gourmet goodies are also on hand making an evening that is truly impossible to forget.
Schmett observed, "WildLights is one of our signature holiday events in the Coachella Valley. Listening to live music next to a campfire, and enjoying our favorite hot beverage under a brilliant canopy of stars reminds us of why so many of us choose to call Palm Desert and La Quinta home. The crisp night air and the peace and serenity of the desert underscore its beauty on every level. My team and I know that we will be busy during the weeks of WildLights since this event is a longtime favorite."
Santa Claus always shows up for the children, and there is plenty to do for everyone during the evening. Tickets may be purchased online or at the door.
For more information on the Annual WildLights at the Living Desert Zoo and Botanical Gardens visit http://www.livingdesert.org/event/wildlights.
To find out more about investing in Palm Desert real estate visit http://palmdesertrealestateinfo.com.
About Luxury Homes by Keller Williams: Luxury Homes by Keller Williams – La Quinta is an exclusive, elite and sophisticated group of real estate consultants raising the bar for service in the La Quinta and greater Palm Springs real estate market.