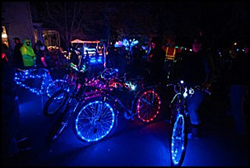 Palm Springs is well known for its many wonderful bike riding trails and fun filled outdoor events.
Palm Springs, CA (PRWEB) April 29, 2015
Brad Schmett, Broker Associate with Luxury Homes by Keller Williams today announced that the Thursday, April 30 Cycledelic Festival will be a huge draw for real estate shoppers who enjoy the many outdoor events celebrated all year in the Coachella Valley. Physical fitness is a prime reason homebuyers choose the Palm Springs area.
This colorful, nighttime bike safety event will feature fluorescent and glow-in-the-dark bicycle decorations and a Vendor Festival as well. The event is designed to coincide with the weekly Villagefest in downtown Palm Springs and is also part of the non-motorized transportation initiative to encourage more bicycle riding. Villagefest always brings in a packed crowd and this event will be especially outstanding because of the clever combination of both events.
Schmett observed that, "Palm Springs is well known for its many wonderful bike riding trails and fun filled outdoor events. As is usual, this event combines fun with charity and giving back. So many of my clients love to participate in Cycledelic and I know we will have many new home shoppers heading to the Valley to be a part of this wonderful undertaking. We look forward to serving all of them."
The Palm Springs Bike Coalition will be on hand to provide safety demonstrations and to outfit this year's participants with glow-in-the-dark gear. Participants will gather at the festival area which is located at the Northwest corner of Tahquitz Canyon Way, between Palm Canyon Drive and Belardo Road starting at 6 PM. The event is free and everyone in the community is invited to attend.
For more information on the Bi-Annual Cycledelic Festival and Ride visit http://www.visitpalmsprings.com/events/cycledelic-a-city-of-palm-springs-bike-event/212392.
To find out more about investing in Palm Springs, CA real estate visit BradSchmett.net.
About Luxury Homes by Keller Williams: Luxury Homes by Keller Williams – Palm Springs, is an exclusive, elite and sophisticated group of real estate consultants raising the bar for service in the Palm Springs area residential real estate market.