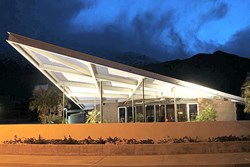 Palm Springs, CA (PRWEB) February 11, 2014
Brad Schmett, Broker Associate with Luxury Homes by Keller Williams, announced today that the traditional, annual event of Modernism Week will bring in one of the largest crowds ever during its 10 day run. The focus will be on the exquisite architecture of the middle 20th century, creating a substantial boost for the local real estate community.
With special events set for the Palm Springs Convention Center as well as the Double-Decker Bus Tours and the Frey II House Tours, the local fine arts dealers and international decorative designers will be presenting all design movements of the 20th century for delighted visitors and guests. Palm Springs is home to what is arguably one of the most significant concentrations of Mid-Century modern architecture in the United States.
Schmett recently commented on the effect of Modernism week for the valley, "Each year this event gets bigger and better. Expect to see expansive architecture tours, films and lectures, and gala soirées as well as films and lectures on the Modernism phenomenon. This is a week when the local real estate community is highlighted in every way. Visitors who are coming to the Valley for this event are clearly looking for a particular architectural style and Mid-Century ambiance. My office is standing by to make themselves available as needed during this extremely busy time."
Modernism week is a series of events that will benefit scholarships to local students who are pursuing college educations in the fields of architecture and design. Additionally, it will support local and state preservation organizations as they strive to preserve the beauty of Modernist architecture statewide. Events will be held daily throughout February 13-23. Get more info here: http://www.modernismweek.com/.
To find out more about investing in Palm Springs, CA real estate, visit http://www.palmspringsrealestateinfo.com/.
About Luxury Homes by Keller Williams: Luxury Homes by Keller Williams – Palm Springs, is an exclusive, elite and sophisticated group of real estate consultants raising the bar for service in the Palm Springs area residential real estate market.