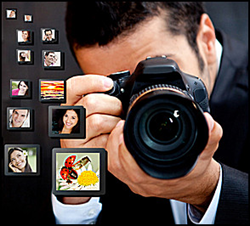 The importance of this event to the Valley cannot be overstated.
Palm Springs, CA (PRWEB) April 25, 2014
Brad Schmett, Broker Associate with Luxury Homes by Keller Williams today announced that the 9th Annual Palm Springs Photo Festival: Connect 2014 will be a huge boost for local real estate thanks to the anticipated record attendance by professional, emerging professional and serious advanced amateur photographers expected for the nearly weeklong event.
More than 20 seminars will be offered along with over 1200 reviews from the Portfolio Review programs and four Symposiums, multiple workshops and evening presentations. Scheduled for the Palm Springs Art Museum, this amazing event will welcome world famous image makers and some of the most gifted photographers and industry insiders in the business. This is the event of the year for up-and-coming young photographers and anyone who is interested in the medium.
Schmett observed that, "The importance of this event to the Valley cannot be overstated. While many people are aware that we offer world-class film festivals along with art and culture festivals, they are not always aware that the Palm Springs Photo Festival is an equally elite event. Indeed, this week long excursion into every aspect of photography will bring in thousands to the Valley, many of whom will be in the market for vacation homes or residential property. It is our pleasure to welcome them all and make ourselves available to them during the festival."
Registration and deadlines for this event were recently extended due to the unprecedented response. A full range of activities are planned daily for the entire week. Limited blocks of special hotel suites will also be available at special pricing exclusively for this event. Advanced planning is urged to avoid disappointment.
For more information on The Ninth Annual Palm Springs Photo Festival visit http://2014.palmspringsphotofestival.com.
To find out more about investing in Palm Springs, CA real estate visit palmspringsrealestateinfo.com.
About Luxury Homes by Keller Williams: Luxury Homes by Keller Williams – Palm Springs, is an exclusive, elite and sophisticated group of real estate consultants raising the bar for service in the La Quinta and Palm Springs area residential real estate market.