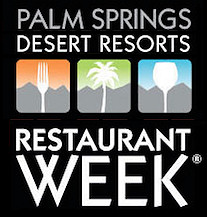 This is the perfect opportunity to sample that restaurant you've had your eye on for a while.
Palm Springs, CA (PRWEB) May 28, 2014
Brad Schmett, Broker Associate with Luxury Homes by Keller Williams today announced that the always incredibly popular Palm Springs Restaurant Week celebrated Valley wide from May 30 – June 8, will attract a substantial number of real estate investors and luxury home shoppers during the weeklong gala celebrations for foodies everywhere
With gourmet prix-fixe menu galore, dozens of the most popular eateries from Palm Springs to Coachella participate in the event every year. Everything from casual dining such as handmade pizza at Acqua Pazza Bistro, to delicious Southwestern cuisine at the Blue Coyote to an elegant candlelight dinner complete with champagne and caviar at the fashionable Melvyn's at Ingleside Inn, it is all happening during Restaurant Week.
Schmett observed that, "This is the perfect opportunity to sample that restaurant you've had your eye on for a while. Every major restaurant in town has great fun participating in Restaurant Week and the chefs always seem to come up with new creations to tantalize all of us. Food is arguably one of the most popular reasons why people love to live in the Palm Springs area. We are notorious for having the finest restaurants to be found anywhere in the country, along with al fresco dining all year round. The real estate community is always extremely busy during Restaurant Week and happily so. We enjoy meeting everyone."
It is recommended that you check to see if your favorite restaurant is one of the many participants this year. This is certainly the time to try several new places to dine since all participating restaurants will be offering special menu and special prices to fit any budget. Bon appétit!
For more information on the Palm Springs Restaurant Week visit http://palmspringsrealestateinfo.com/ps/palm-springs-restaurant-week/.
To find out more about investing in the Coachella Valley real estate visit http://bradschmett.com/.
About Luxury Homes by Keller Williams: Luxury Homes by Keller Williams – La Quinta, is an exclusive, elite and sophisticated group of real estate consultants raising the bar for service in the upper-tier La Quinta and Palm Springs area residential real estate market.