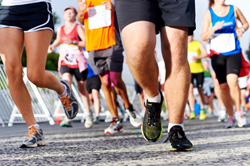 The Coachella Valley is known for its charitable mindset and legions of contributions to worthy causes.
(PRWEB) October 21, 2015
Brad Schmett, Broker Associate with Luxury Homes by Keller Williams today announced that the Palm Springs Tram Road Challenge on Saturday, October 24, and presented by the Palm Springs Aerial Tram, will be a huge boost for local real estate while raising much-needed money for charities throughout the Coachella Valley area.
In collaboration with Make A Difference Day, the annual event will benefit United Way of the Desert, an organization that helps thousands of individuals and other charities Valley-wide. Participants will climb 2,000 vertical feet in just over 3.7 miles during the event. All finishers will receive a customized finisher's medal as well. Held annually on the fourth Saturday in October, Make a Difference Day is a major celebration that allows millions of Americans to come together to celebrate volunteerism and community partnerships and make a difference for the communities in which they live.
Schmett observed that, "The Coachella Valley is known for its charitable mindset and legions of contributions to worthy causes. There is not a single week that goes by throughout the year that the valley does not host multiple charitable endeavors for the benefit of those in need. This event brings in not only the philanthropic, but also health minded individuals who love and embrace the holistic lifestyle of this area. Many of my own clients have chosen to purchase homes here because of the healthy outdoor lifestyle we all enjoy so much."
Expect to see plenty of great exhibitors and vendors throughout the event. Early registration is advised and entry fees include several perks as well.
For more information on the 30th Annual Tram Road Challenge visit http://www.kleinclarksports.com/tram.
To find out more about investing in Palm Springs, CA real estate visit http://homesearchpalmsprings.com.
About Luxury Homes by Keller Williams: Luxury Homes by Keller Williams – Palm Springs, is an exclusive, elite and sophisticated group of real estate consultants raising the bar for service in the Palm Springs area residential real estate market.