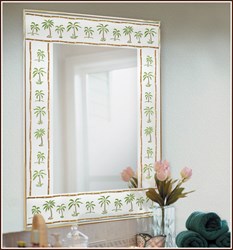 Give mirrors, windows and glass doors a stylish new look.
Cocoa, FL (PRWEB) November 15, 2013
If you like tropical and beach decor, then the new Palm Tree and bamboo borders by Wallpaper For Windows are for you. These decorative accents are an easy and affordable way to give mirrors, windows and glass doors a stylish new look.
Palm Tree borders are available with a stained glass or etched glass look and a horizontal (side to side) or vertical (up and down) orientation. Each border is available with a clear or lite frost (privacy) background. With the clear background, the Palm Trees and bamboo appear to be individual elements on the glass. While the privacy background gives the glass behind the artwork a lightly frosted appearance. (Palm Tree's look the same on both sides of the glass.)
Borders will compliment any room of the home or office. Transform an ordinary mirror into something decorative by framing it with a Palm Tree border. Many decorate just 2 sides of a mirror, others prefer to decorate all 4 sides (especially on large mirrors).
When used across the middle of sliding glass doors, Palm Tree borders are a good-looking way to prevent people from walking into closed doors.
There are as many ways to decorate windows as there are types of windows. For tall, narrow windows, the most common use is vertically on the sides. For wide windows, horizontal borders along the bottom or top of the glass panes is the usual way of decorating. For improved privacy, use the Lite Frost background borders.
Give French panes a new look by decorating panes with a single palm tree. (Clear background borders are easiest to use.)
Palm Tree borders are made with Wallpaper For Windows's patented adhesive-free film, so they are easy to trim to size, easy to apply, will look great for many years, and when it is time to redecorate, can be removed in less than 15 seconds. A set of borders includes: 2 - 8 inch x 48 inch borders, instructions and a Free squeegee/smoothing tool. Visit WallpaperForWindows.com to see all the decorative and privacy window films manufactured by Wallpaper For Windows.
EtchArt, LLC has been manufacturing Wallpaper For Windows brand window films since 1996. Over 1,000,000 doors, windows, mirrors, shower enclosures and mirrors are decorated with one or more of these decorative and privacy window films. There are over 70 stained glass, frosted glass, etched glass and leaded glass designs from which to choose. All designs are produced on Wallpaper For Windows patented adhesive-free vinyl film with the added benefits of; energy savings and filtering of UV rays.