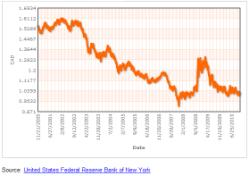 A decline in home prices of 50% or more, historically low interest rates, unprecedented foreclosures, a weak U.S. Dollar and changes to immigration laws for investors has created the perfect storm for international buyers
Palm Beach, FL (Vocus/PRWEB) November 30, 2010
Florida is the number one destination for international buyers according to a study conducted by the National Association of Realtors (NAR). Kevin Dickenson with stealthatcondo.com said the NAR study analyzed sales between March 2009 and March 2010 and found that buyers with permanent residences outside the United States spent an estimated $41 billion on residential property nationally.
A second NAR study revealed that international buyers purchased 90,000 Florida condos and homes in 2010 representing 22 percent of Florida's real estate market.
According to a study by Harris Research Group for NAR, over 1 million potential overseas buyers surveyed would consider retiring in the U.S. The study also confirmed that international buyers select Florida due to the warm climate, but 81% of the buyers surveyed said the primary reason is the cost to live in Florida is significantly less than their current country of residence.
"There are several other key factors fueling international buyers to purchase real estate in South Florida," according to Dickenson. "The Canadian Dollar is now on par with the U.S. Dollar and this may be the best time in 10 years for Canadians to buy. The Europeans have an even larger advantage with a Euro that is over 25 percent stronger than the U.S. Dollar. A $500,000 condo can now be purchased for 375,000 Euro's."
"There are also various U.S. visa programs, including the E-2, EB-5 and L-1 visas for investors looking for a fast path to U.S. residency," said Dickenson. One long-term visa program helps investors attain a conditional lawful permanent residence status by investing $500,000 in a limited partnership at various government-maintained regional centers. Another program involves an investment of $l million to create 10 new full-time positions for U.S. workers."
There are also visas for people who manage various types of enterprises and businesses in the U.S., including rental properties, condominiums and franchises; people in the export and import business; and foreign executives who manage U.S. subsidiaries of foreign companies. All can facilitate international investment in U.S. real estate.
"Take all of these factors and add unprecedented foreclosure rates and a decline in real estate values of 50 percent or more and it's no surprise that international buyers are moving in for the kill," said Dickenson.
"The NAR study contains a breakdown of buyers by country, but the chart is very misleading and not representative of Florida as a whole," said Dickenson. "According to the study, 16 percent of buyers are from Latin America and 14 percent are from Western Europe, but the vast majority is concentrated in Miami. In Palm Beach County, Canadians are the primary international buyer with an increasing number of Europeans from the U.K."
"Private equity groups, REIT's and hedge funds from around the world are snapping up bulk condos from banks and distressed developers," said Dickenson. "I think it's a great investment because they are paying well below the cost to build, and with interest rates at historic lows, distressed real estate is a great place to park money."
"Buyers always ask me if it's the right time to buy and I tell them to look at what the bulk buyers are paying because this is the group that is establishing market bottom for the Florida condo market," said Dickenson.
Kevin Dickenson is a Palm Beach real estate agent with Prudential Florida Realty and more information is available on his website at http://www.kevindickenson.com.
###