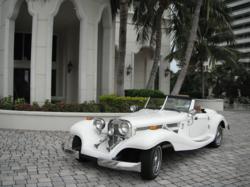 89% of 42,509 new condos have been sold
Palm Beach, FL (PRWEB) February 07, 2012
The new condo inventory in South Florida is quickly disappearing, and Kevin Dickenson of Florida Realty wants to make sure his Palm Beach condo is one that sells this season. To make sure it appears on everyone's radar, he's offering a 1934 Mercedes Roadster replica with the purchase of his condo.
"I had a seller with a very unique oceanfront condo and a Hollywood client with a very unique car to sell," said Dickenson. "I put the two together and struck a co-marketing agreement that's beneficial to both clients."
"The oceanfront tower is unique because it's a small boutique building with only 15 units," said Dickenson. Typically, a tower will have hundreds of units and you'll stand in line for elevators and struggle to find an open chair by the pool. This is a very upscale building that feels like a home, and in the summer months, it's not unusual to have the entire building all to yourself. The common area finish out is unsurpassed with Venetian plaster walls, a wine room, billiard room, gym, media room and lots of marble and onyx.
"When I saw the car, I immediately thought of this condo," said Dickenson. The two go perfectly together and it's a great club car for the island. There are less than fifty original 1934 Mercedes left in the world and one sold a few years ago for $8 million at auction. Most people can't tell it's a replica and it turns a lot of heads when you take it for a spin around town.
Dickenson recently published the Miami and Fort Lauderdale Real Estate Condominium Market Report 2011 that reveals over 89% of the 42,509 new condos built are now sold.
The condo was $2.8 million opening day and delivered "decorator ready" with cement floors and primed walls. The owner spent a fortune finishing off the interior and is now offering the condo at $1.799 million with a free roadster. The website http://1934-mercedes-benz-heritage-replica.blogspot.com/ has photos and videos of both the car and condo.
Kevin Dickenson is a top producing Palm Beach real estate agent with Prudential Florida Realty. In 2011, Dickenson closed over $24 million in commercial and residential properties and works from Palm Beach to South Beach.
###