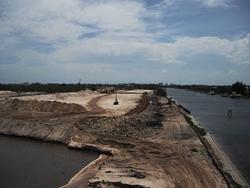 The other big factor is a weak Dollar and this is why we see foreign money pouring into South Florida
Palm Beach, FL (Vocus/PRWEB) November 30, 2010
The Palm Beach real estate market is showing signs of a rebound as Toll Brothers, Kolter and others break ground on projects in Palm Beach County. Foreign money is pouring into South Florida due to a weak U.S. Dollar.
"The Palm Beach real estate market is showing signs of a rebound as developers break ground on projects in Palm Beach County," said Kevin Dickenson with Stealthathome.com.
Earlier this year, Divosta broke ground to complete phase II of Mallory Creek, a 2200 acre single family home development in Jupiter near Scripps Biotech. Divosta sold 321 out of 588 homes with prices ranging from $361,000 to over $600,000 and the community is buzzing with construction activity.
In May, Toll Brothers snapped up 77 acres of prime Intracoastal land in Juno Beach from bankrupt WCI Communities for $20M, and within weeks, construction equipment was on the ground installing the infrastructure for a new waterfront community called Frenchman's Harbor. WCI obtained site plan approval for 48 single family homes and 30 condos all with 50 foot boat slips.
New Urban Communities had several commercial parcels sitting idle for years in the Greenwich subdivision in Jupiter. Two 30,000 square foot towers zoned for medical, office and retail are out of the ground and the shell is on track for completion in early 2011.
Earlier this year, Kolter acquired a distressed oceanfront property in Gulfstream and almost instantly unveiled plans for 4001 Ocean, a 34 unit tower that will be released this season with delivery scheduled for early 2013. Public records reveal the 3.19 acre parcel sold for a mere $1,600,100 or $11 per square foot of dirt.
Even the rich and famous think it's the right time to build, but Author James Patterson paid significantly more for his piece of dirt on Palm Beach. Patterson sold his Palm Beach home on the lake in June for $10.3M and is building a 21,000 square foot mansion on a 2 acre oceanfront lot that was purchased in 2009 for $17.4M or $200 per square foot of dirt.
"It probably surprised a lot of people to see a new crane appear in the downtown Miami skyline, but over 70% of that inventory has been absorbed leaving 7,500 new condos available in the downtown corridor," said Dickenson. SkyPalace is a 35 story 369 unit tower that sits atop the Publix parking garage in Mary Brickell Village with completion slated for late 2011. Another big surprise, the developer already has pre-construction contracts on over 190 units.
Is it the right time to buy or develop new projects? "There is tremendous incentive when developers and investors can acquire prime distressed properties at huge discounts and development costs are down by at least 25% compared to the boom period," said Dickenson. "If you study each sub-market where developers are building, you'll discover the inventory for a new product is quite low, and there will always be demand for brand new."
Dickenson also pointed out, "the other big factor is a weak U.S. Dollar and this is why we see foreign money pouring into South Florida. The Canadian Dollar is now on par with the U.S. Dollar and this may be the best opportunity in over 10 years for Canadians, but it's even better if you buy using the Euro's 25-30% advantage. Combine a down real estate market with a tremendous currency advantage and the stars are aligned for foreign buyers."
Kevin Dickenson is a Palm Beach real estate agent with Prudential Florida Realty and specializes in distressed assets and bulk condo acquisitions. Dickenson tracks all the big sales in South Florida on his website http://www.kevindickenson.com.
# # #