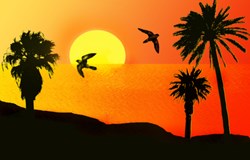 This valley is very famous for its extraordinary dedication to fine art and cultural pursuits.
Palm Springs, CA (PRWEB) August 22, 2013
Brad Schmett, Broker Associate with Luxury Homes by Keller Williams today announced that the local real estate community is buzzing about the expected increase in luxury home sales thanks to art collectors looking to score great deals for both their art and real estate portfolios. The famous Backstreet Art District at 2600 South Cherokee Way in Palm Springs is set to sponsor First Wednesday of the Month Art Walk exhibits featuring some of the valley's most renowned artisans, a sure draw for savvy collectors.
Schmett recently discussed the impact on local real estate, "This valley is very famous for its extraordinary dedication to fine art and cultural pursuits. Our annual festivals are legendary, so it is no wonder that art collectors from all over the world are making a point of coming to Palm Springs to retire or purchase second homes. With an unprecedented inventory of world class estates and luxury villas they are certain to find exactly what suits them. We are always delighted to welcome them."
Upcoming dates include the evenings of October 4, November 6, December 4 all of 2013 and January 1, 2014. Visitors enjoy a leisurely stroll through a dozen artist owned galleries and working studios stocked with exquisite original art by local artists utilizing various mediums including paintings, sculpture, jewelry, photography, ceramics and more. The First Wednesday Backstreet Art Walks afford a unique opportunity to meet and interact with the artists themselves as one searches for the perfect piece to add to a collection or become a family heirloom.
The Palm Springs area is traditionally an artistic mecca that is world famous. Home to every imaginable art genre, the area has produced some of the most unique and acclaimed artists of the Twentieth Century. The Wednesday walks are held from 6pm to 9pm throughout the year and are centrally located for visitors.
For more information on the Backstreet Art Walks visit http://www.artpalmsprings.com.
To find out more about investing in Palm Springs, CA real estate visit http://palmspringsrealestateinfo.com.
About Luxury Homes by Keller Williams: Luxury Homes by Keller Williams – Palm Springs, is an exclusive, elite and sophisticated group of real estate consultants raising the bar for service in the Palm Springs area residential real estate market.