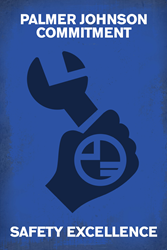 "This is truly one of the greatest PJ achievements EVER. Thanks to you all for truly caring about each other…that's the only way 365 happens!!" Craig Parsons, President & Owner
Madison, WI (PRWEB) July 23, 2015
Palmer Johnson Power Systems (PJ), an off-highway power train and aerial machine repair service organization, is celebrating for the first time in its company's 38 year history 365 days with zero lost time injuries. Palmer Johnson has over 50 factory trained technicians and 130 employees spread across the Midwest and West Coast. This accomplishment is coming off a year where PJPS Service grew by 30% which is the largest growth to date. It is an incredible accomplishment with the amount of heavy repair done at each of the 10 company owned locations.
Palmer Johnson Power Systems or PJ as the employees commonly refer to it as, has built a culture around high performance and family. Integrated into the foundation of the safety program is the core value: We Care about our Employees. Palmer Johnson teaches safety by asking their employees to look out for each other and to keep teams safe. Perhaps this is a different approach to the industry standard but the leadership team at PJ feels that safety happens when their employees are relaxed, engaged and looking out for each other. This approach on safety over the last year, has moved PJ away from traditional safety videos to focus more on where safety can be impacted. The employees have put together over 15 Palmer Johnson original Job Hazard forms around the highest impact areas of their business. They use these forms to discuss safety on the shop floor each month. Employees also do weekly floor walks to audit their Service Centers for organization and cleanliness. PJ wants their employees to take pride and ownership of their environment and of their safety. This has led the service teams to have real conversations over real scenarios on the shop floor; knowing all along that common sense is often the biggest driver of an injury free workplace. Common sense is often said to be not that common, so PJ focused on discussing it and increasing awareness within the team.
With that being said there is always a little bit of luck involved and PJ leadership is humbled by this success. Company President and Owner, Craig Parsons is a big believer in building a culture where people are inspired. He sets the bar for excellence and this year his team delivered. When you total it up as a company it totals to over 270,000 hours collectively. The company will be purchasing shirts for all employees with the 270k logo. When touring the shop floor Tyler Brown one of PJ's bright young star mechanics summed it up by saying, "that is a lot of dudes with power tools." The leadership team laughed, agreed and thanked him for his effort in this accomplishment! Many of the others technicians have been quoted saying they are ready for another 365. PJ leadership believes with this team anything is possible!
Palmer Johnson Power Systems, is a rapidly growing service organization and a leader in the powertrain service industry. Over the last 38 years, PJPS has built a business around strategic partnerships with many of the key off-highway transmission and axle manufacturers. PJPS continues to seek out expansion and recently acquired Bowers Transmission expanding services to the Northwest with its new Palmer Johnson Seattle location. For more information please contact Matt Ellsworth at 608.834.5215 or send an email to: mellsworth@pjpower.com. Also, visit http://www.pjpower.com for information on Palmer Johnson services.