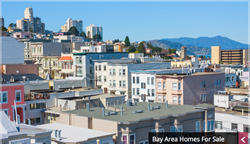 Palo Alto, CA (PRWEB) September 15, 2013
Palo Alto real estate agent for hire, announces OpenHouseBayArea.com. The company is led by local owner / investor Adina Vos. Her real estate business acumen in the Palo Alto area has has contributed to millions of dollars worth of real estate transactions in the Palo Alto area over the last several years.
With a reported cooling of the housing market in the area, Ms. Vos has begun to concentrate her efforts on the investor market. Her experience has proven that a cooling of the market is generally associated with more transactions to investors looking for investment properties. With these types of transactions, Ms. Vos is well versed.
A recent online article with a popular real estate news organization noted that a larger segment of real estate professionals are now turning to the internet for their buying and selling marketing campaigns. With this in mind, Ms. Vos has recently contracted with ARME Realty.com, a top rated real estate internet marketing firm and has committed marketing funds for all investors looking for a solid property acquisition campaign.
Simon Landers, a spokesperson with ARME Realty.com, states, "The high end property values in the Palo Alto area provides a prime opportunity for real estate professionals using our programs to achieve a ROI much higher than your average return. Committing just a few hundred bucks a month could potentially return six figures or more in commission checks for agents and brokers."
Mr. Landers continues, "Ms. Adina Vos with OpenHouseBayArea.com clearly understands the value proposition of a strong online presence and insists on it for every listing she takes on. As a result of this strategy, Ms. Vos is able to sell homes much quicker than the average agent."
Ms. Vos is available for appointments Monday through Saturday for anyone who is interested in buying, selling, or building a home in the Palo Alto area. She can be reached by phone at (650) 353-5515.