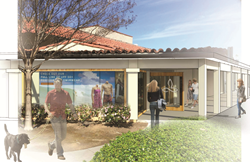 We look forward to joining the many vibrant businesses and connecting with both our loyal and future customers and their community
Carlsbad, CA (PRWEB) June 03, 2015
prAna is adding to its brick-and-mortar retail locations with a new store in Palo Alto at Town & Country Village. This will be prAna's sixth store across the country and second store in the bay area.
"Palo Alto is full of exciting energy and new ideas," said prAna's CEO, Scott Kerslake. "We look forward to joining the many vibrant businesses and connecting with both our loyal and future customers and their community."
prAna creates built-to-last apparel for free-spirited people to pursue their passions from the mountains to the beach. Born from the experience of its adventurous friends and ambassadors that include climber Chris Sharma and yogi Shiva Rea, prAna provides items inspired for the journey, no matter how grand the adventure. Each prAna store showcases its products, heritage and the sustainable practices that the brand is known for.
As a leader of sustainable practices, prAna mitigates its impact on the environment in all stages of production, operations, and supply chain. To stay consistent with prAna's commitment, the Palo Alto retail location will incorporate sustainable building practices.
"At prAna, it's our mission to give more than we take from the world—it's part of our DNA," said Kerslake. "That's what drives us to create clothing with conscience, and that's why the Palo Alto store will be much more than a retail space—just like each of our locations, it will be home to a variety of classes and clinics we're proud to offer."
The prAna store in Palo Alto will be located at Town & Country Village on the corner of El Camino Real and Embarcadero Road. To learn more, please visit prAna.com.
-30-
About prAna
prAna is a lifestyle brand that draws its name from the ancient Sanskrit word for breath, life and vitality of the spirit. From its beginning in 1993, prAna has been committed to weaving sustainable practices into its operations and supply chain, working to reduce its impact on soils, water supplies and other natural resources while promoting conservation. prAna is also conscious of its impact on communities and has worked to include a growing number of fair trade styles every year. It is the first major apparel company in North America to offer Fair Trade USA certified products and accessories. prAna is also one of the portfolio brands of Columbia Sportswear Company. To learn more, please visit the company's website at http://www.prAna.com.