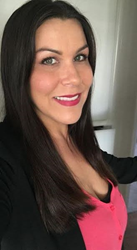 This award means everything to me because I really invest my all into what I do. I love this business and how it can change every day.
Los Angeles, CA (PRWEB) April 13, 2017
Paloma Fierro, Berkshire Hathaway HomeServices, is featured in a special section of the March issue of Los Angeles magazine as a 2017 Five Star Real Estate Agent award winner.
Five Star Professional partnered with Los Angeles magazine to identify and showcase an exclusive group of real estate agents who have demonstrated excellence in their field. Less than 1% of agents in the Los Angles-area received this recognition.
"This award means everything to me because I really invest my all into what I do. I love this business and how it can change every day. I am super resourceful, so I enjoy troubleshooting issues as they arise. I can rise to challenges and my clients know that about me and count on it. 90% of by business is referrals and past clients, which is the biggest compliment, they know I am there for them and their family/friends. I don't think of closing one deal at a time and the numbers. I focus on long-term relationships so that I am working with my clients over and over again for the rest of my life," said Paloma Fierro of Berkshire Hathaway HomeServices.
The 2017 Five Star Real Estate Agent award winners have been carefully selected for their commitment to professional excellence and overall client satisfaction. The award is based on rigorous research with significant focus on customer feedback and providing quality services.
"I have been in the business 15 years, I am very hands on with clients, I preview properties and create video tours and send them to my clients to save them time while searching for property. For sellers, I customize marketing plans to fit their needs. I have professional photos of every single property and create a gorgeous website for my listings, it really draws in a bigger pool of buyers to have amazing pictures. I like networking with other agents. Social media can be an incredible tool to share properties with other agents and buyers and to create campaigns to market properties. I like to stay ahead of the curve with the newest tools in technology so I can better serve my clients," said Paloma Fierro.
Five Star Professional has been conducting market research to define and promote professional excellence in service professionals since 2003. Its Five Star Real Estate Agent award program is the largest and most widely published real estate agent award program in North America.
Real estate agents are awarded based on an in depth research process. Thousands of consumers are contacted to rate their real estate agent on ten evaluative criteria including customer service, market knowledge, negotiation, closing preparation and overall satisfaction. Beyond a qualifying client evaluation score, real estate agents are evaluated on objective criteria such as experience, production levels and disciplinary and complaint history.
There is no fee to be considered or awarded. Visit http://www.fivestarprofessional.com for more information.