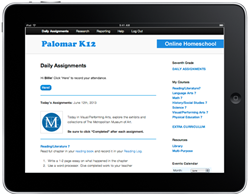 "Palomar K12 is a remarkable development likely to be welcomed by homeschoolers looking for great free resources," says Tom Vander Art, author of Getting Smart: How Digital Learning is Changing the World.
San Diego, CA (PRWEB) September 23, 2013
There's a paradigm shift in K12 education that's currently underway, and that shift is from the traditional classroom setting to students being schooled at home by their parents.
Sheri Wells, a 25-year tech-industry veteran and homeschool mom, has perhaps developed the system most likely to lead the migration to educate children at home. "The home provides a safe environment for kids, with access to the world at their fingertips where learning can be exponential," says Wells.
Wells launched Palomar K12 to the world this school year and has had an outpouring of positive response from parents who have been Wells' best source for getting her platform and curriculum out there. Thousands of students have signed on through word-of-mouth.
Research firm, Ambient Insight, has predicted that in the coming two years over 17 million K­12 students will receive at least some portion of their education online with 4 million of them getting 100% of their education online. Wells has perfect market timing with homeschooling set to explode, and is in a unique position to truly disrupt the U.S. education system.
The shift to homeschooling is being driven by a variety of problems within the public school system including budget cuts and social issues; as well as, the upsides to homeschooling itself. "Parents want more involvement with their children's education, and they're not getting that through the current system," says Wells. Her goal is to provide a positive educational experience where students can acquire the skills to succeed throughout their lives.
After looking at the options for online learning for her own children, Wells determined the marketplace needed a platform built on newer, open source technologies and a learning style more suited to today's youth.
Wells developed the platform and curriculum for kindergarten through twelfth grade from the ground up following state standards. Students learn how to do research, write essays, create visual/oral presentations, and are able to expand their learning based on their own interests. Wells has created over 16,000 custom lessons, a digital spelling program, and library of academic and classic literature e-books.
The platform is very intuitive and can be self-guided from 3rd grade on. There is of course a high-level of parent involvement for earlier grades. All grades should have parental oversight and parent/student interaction. The courses offered include Reading/Literature, Language Arts, Math, History/Social Studies, Science, Visual/Performing Arts, and Physical Education.
As far as how it works, students login to their account to view their daily assignments (Monday through Friday). Daily assignments are automatically given credit upon completion and quizzes and tests are graded in real-time. An automated grading and reporting system makes it easy to track the progress.
Parents are providing very positive feedback of the system and their experiences. "This is a really beautiful program. I am looking forward to using it with my children," says one parent. "We really enjoy the art lessons!!! The other lessons are challenging and rewarding, as well," says another parent. "I have loved it!"- "Thank you so much for allowing us to use this program," says another.
Even though Palomar K12 is built for homeschoolers, many parents are using it to supplement their children's public school education. "I want to do this for all three of my kids," says a mom whose kids go to public school.
Parents can sign up their kids directly by going to PalomarK12.com, selecting the appropriate grade level, and gain instant access to the lessons.
About Palomar K12 – http://PalomarK12.com
Palomar K12 is a service of Palomar Press, an innovative educational publishing company offering online learning solutions for kindergarten through twelfth grade.
About Global Good Networks - http://GlobalGoodNetworks.com
Global Good Networks (GGN) is an investment and brand development firm co-founded by Josh Bois and Rick Jeffries to develop and market the next big brands.
###
For more information and to explore the homeschool platform go to: PalomarK12.com or contact Josh Bois, Co-Founder of Global Good Networks in regards to Palomar K12 public relations inquiries.