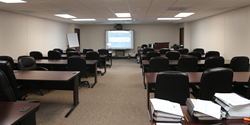 DESOTO, Texas (PRWEB) August 06, 2018
Palomar Modular Buildings has released a case study for the completed construction of the Texas Department of Public Safety's Texas Highway Patrol Training Building in Austin, Texas. The facility is a 3,600 square foot modular government building composed of 5 modules, which were prefabricated at the Palomar Modular Buildings facility in DeSoto, Texas before they were shipped to the site in Austin for installation and final finish.
The modular building floor plan includes offices, restrooms and a conference/training room, as well as core support spaces such as a kitchen area, copy room, and an IT/Telecom room. The windows are single hung, dual low E-vinyl and are equipped with security bars on the exterior. The building also features a comprehensive HVAC system, energy efficient LED lighting, electronic secured doors, and durable low maintenance floor and wall coverings. The exterior is finished with a 29 gauge galvalume roof and 26 gauge hi-ribbed r-panel steel siding. The 14×70 modules were delivered and then forklift set on the natural soil site.
The Texas Department of Public Safety's Texas Highway Patrol Training Building case study, along with a host of other case studies, is available at the company's website.
About Palomar Modular Buildings
Palomar Modular Buildings manufactures advanced modular buildings for a range of industries including office, retail, healthcare, government, education and workforce housing. The company's state-of-the-art manufacturing facility in DeSoto, Texas, is staffed with a dedicated team of skilled tradesmen and production managers that have produced hundreds of modular projects from simple additions to complex multi-stage facilities.
If you would like further information about this press release or to schedule an interview with Gary Taylor, please contact Gary Taylor at gtaylor(at)palomarmodular(dot)com or call 1-866-312-4032.