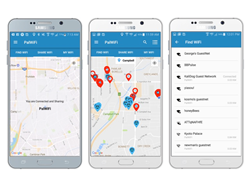 Even in the heart of Silicon Valley, 12% of household consumers do not have Internet access.
Campbell, California (PRWEB) March 01, 2017
PalWiFi's patent-pending software technology is a solution to today's pressing wireless network needs, with the goal of improving the wireless experience while containing cellular costs. PalWiFi's affiliation with the National Digital Inclusion Alliance, affirms its mission to assist communities by offering a way for everyone to connect wirelessly. The innovative iOS and Android apps allow consumers and small businesses to save money by using their existing routers and Internet access lines to join the trusted sharing community. Using PalWiFi, consumers and retailers can continue to share Wi-Fi without exchanging passwords or leaving Wi-Fi hotspots open to cyber security risks that threaten our community.
Thuy Nguyen, Founder of PalWiFi, previously VP & GM at Comcast, is concerned that, "the digital divide in America is widening. It's shocking that in the heart of Silicon Valley, in San Jose, America's highest median household income city, 12% of households do not have Internet access. Internet access, especially wireless access, is essential for Americans in today's economy. PalWiFi is committed to assisting San Jose's Digital Inclusion Initiative by offering the community an option to use existing resources to help everyone stay connected securely."
Recent studies show that many Americans, particularly the millennial generation, are struggling with rising costs of living. The widening income gap in America has created a digital divide that is leaving millions of Americans disconnected to essential online resources.
David Witkowski, Executive Director of the Wireless Communications Initiative at Joint Venture Silicon Valley, concurs, "As we aim to bridge the digital gap with digital inclusion initiatives across communities, innovative technologies such as PalWiFi provide access and cost benefit for all its users in today's wireless lifestyle."
With PalWiFi, retailers and consumers agree to share their Internet and become members of a growing PalWiFi trusted community. Consumers download the PalWiFi sharing app, join the PalWiFi community, and contribute to a network of hotspots. Members gain access to complimentary Wi-Fi at PalWiFi hotspots and use less mobile data to help lower their mobile Internet costs.
Richard Tran, Mayor of the City of Milpitas welcomes advanced technologies for his hometown, stating, "My goal to foster a safe and family-focused city requires involvement from public and private sectors. I think PalWiFi has potential to help the City of Milpitas be a leader in providing affordable ubiquitous Wi-Fi connectivity for our residents and for visitors to our Silicon Valley city."
PalWiFi invites all Americans to lead digital inclusion efforts in their communities. Visit http://www.palwifi.com for more information on a better way to share Wi-Fi.
About PalWiFi
PalWiFi is a community of consumers and small businesses sharing Wi-Fi. PalWiFi is developed and operated by Broadband Pulse, Inc. The PalWiFi platform makes wide-scale sharing possible using network functions virtualization (NFV) technology. PalWiFi offers safe, secure, and simple Wi-Fi sharing for users and network administrators.
About Broadband Pulse, Inc.
Broadband Pulse, Inc. is a startup software company based in Silicon Valley and founded by wireless technology veterans who have built and operated large broadband networks for AT&T, Comcast and @Home Network. The company specializes in building virtual functions networking technology - ideal for consumers, retailers, hospitality businesses, venue operators, and schools - to leverage shared Wi-Fi networks and to serve customers in today's connected lifestyle.