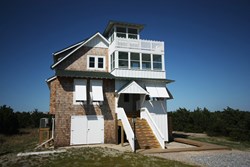 With only a few remaining lots on Ocracoke, we are excited to offer this opportunity to buyers.
Ocracoke, NC (PRWEB) October 16, 2013
Just as the Pirate Blackbeard once claimed Ocracoke Island as his sanctuary, buyers can now claim their sanctuary within Pamlico Point. Pamlico Point is not only the newest neighborhood on Ocracoke Island, but also the closest to the beach—just a short bike ride to miles and miles of pristine, undeveloped beaches.
The one-day lot sale occurs on November 16, 2013. Five lots have been carefully chosen, specially priced, and incentives added. Beginning October 15 and ending November 15, Ocracoke Island Realty will accept buyer registration to include a pre-qualification letter and a $500 certified check, which is refundable if purchase does not go through. A buyer's date of registration will dictate the purchase order of the lots. Special financing offers are available through Gateway Bank and Vantage South. Ocracoke Island Realty is offering an accommodation package for those interested in attending the sale.
Details of the one-day lot sale include:

Lot prices start at $89,000 with incentives that may include an additional parcel to guarantee your unobstructed view or a free one-week vacation on Ocracoke, which may be used as a relaxing vacation or to meet with builders and other vendors to be coordinated by Ocracoke Island Realty.
Infrastructure, such as improved roads and all utilities, and permitted septic are in place for homes. Lot purchase price does not include the purchase price of the water meter.
Building packages are available.
Full service vacation rental packages from Ocracoke Island Realty are available.
To learn more about the Claim Your Sanctuary One-Day Lot Sale at Pamlico Point, please call Martha Garrish, Broker-in-Charge, or Donna Drilling, Senior Associate Broker, at Ocracoke Island Realty, 877-684-5035.
Ocracoke Island, the southernmost island of a string of barrier islands called the Outer Banks that lie just off the coast of North Carolina, provides visitors a glimpse of true seclusion amidst rare beauty. Miles of unspoiled beaches and natural beauty surround this coastal fishing village.
Ocracoke Island Realty manages over 300 vacation rental homes on the island. Ocracoke Island Realty offers a variety of real estate options: second homes and/or investment properties, such as vacation rental homes and condos, searchable via in-house listings or the entire Outer Banks MLS database.
Their office is located at 1075 Irvin Garrish Hwy and is open seven days a week from 9 am to 5 pm. Phone: 877-684-5035 toll free.