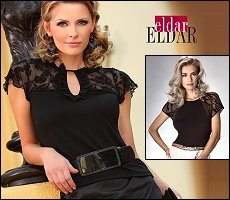 Eldar is a women's blouse line that is destined to be very popular.
Denver, CO (PRWEB) August 13, 2013
Pampered Passions Fine Lingerie located in Centennial, Colorado, and online at PamperedPassions.com has found another little known gem for the women's fashion industry in the United States. This sexy lingerie store is known for finding new lingerie brands that have the desired "wow" factor. Eldar is destined to be another of those incredible intimate apparel brands introduced to the USA by Pampered Passions.
Imported from Poland, Eldar designs and manufactures beautiful blouses, tops and camisoles for women that are perfect for both business and pleasure. Eldar blouses and camisole tops are available in an ultra-comfortable viscose blend as well as 100 percent cotton. Designed with function and comfort in mind, Eldar has designed an awarded line of business and casual tops for women.
Pampered Passions has introduced luxury lingerie brands such as Axami, manufacturers of beautiful bra and panty sets, also imported from Poland, as well as Lola Luna jeweled g-strings from the south of France and Bracli pearl thongs from Spain.
"We are always excited to discover and introduce beautiful new intimate apparel brands to the USA marketplace. I believe Eldar is a women's blouse line that is destined to be very popular for all women," says John Vargo, co-Founder of Pampered Passions Fine Lingerie. Eldar blouses are available up to plus size 3XL and range in price from $30 - $55. Over 80 beautiful top styles are now available.
For a limited time, Eldar tops are on sale. PamperedPassions.com is having a Buy 3, Get 1 Free promotion on all Eldar blouses and camisoles. Visit the website for more information.
About Pampered Passions Fine Lingerie and PamperedPassions.com
Pampered Passions Fine Lingerie has been among the most innovative lingerie retailers in the USA for over a decade. In 2010, Pampered Passions was voted Best Lingerie Store in the USA because of its unique product offering and exceptional customer service.
PamperedPassions.com is pleased to offer a diverse selection of both well-known popular brands as well new gems destined to be tomorrow's most popular brands. Pampered Passions also provides certified mastectomy bra fitting services, breast forms and prosthesis and is endorsed by the American Cancer Society.