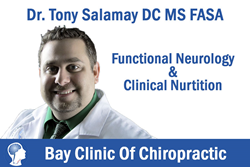 This event is perfect for anyone who is living with chronic pain or poor health and isn't sure how to go about becoming well again. We're also happy to offer new patients free electrodiagnostic exams
Panama City, FL (PRWEB) October 09, 2017
With the Thanksgiving season approaching, the Bay Clinic of Chiropractic is looking for ways to share their good fortune with the greater community, and this October Panama City Chiropractor Dr. Tony Salamay and his staff are doing just that with a special Patient Appreciation Day.
On Tuesday, October 24th, 2017, the Bay Clinic will offer free chiropractic adjustments to all patients all day long. Additionally, the clinic will be giving out prizes including free massages, spa treatments, restaurant vouchers, and the grand prize, a 32-inch Samsung TV. Brunch and dinner will also be catered for all patients, old and new.
"We do every year for all our patients," Dr. Salamay explains. "If it wasn't for all of you, we wouldn't be the successful place of healing that we are today. This is our way to give thanks, and it couldn't be at a more perfect time."
Though Patient Appreciation Day is an annual event at the Bay Clinic, with the recent devastation in the wake of a horrific hurricane season, Dr. Salamay is even more eager to use this year's event to benefit more than only his clinic's patients. As such, attendees are asked to bring five cans of food or $5 that will be contributed to local charities.
"This will be a day of fun and celebration, and all that we ask from you is that you bring some canned goods or cash," Dr. Salamay says. "We will donate all the food and proceeds to the local food drive; that's another way that we can all give back to the community!"
In addition to this event, the Bay Clinic will be hosting New Patient Appreciation Day on Thursday, October 26th, 2017. Designed to welcome newcomers to the area and those curious about functional medicine, chiropractic, and other holistic treatments, New Patient Appreciation Day will feature free consultations and other promotions.
"This event is perfect for anyone who is living with chronic pain or poor health and isn't sure how to go about becoming well again. We're also happy to offer new patients free electrodiagnostic exams," Dr. Salamy adds. These electrodiagnostic exams, also known as EDX or electromyography (EMG), represent the latest in functional neurology testing. Through the use of precise electrical sensors, these exams allow Bay Clinic staff to gain a complete picture of a patient's nervous system and muscles in an area of pain or reduced function. Using this electrodiagnostic exam (a $225 value, offered for free during New Patient Appreciation Day), Dr. Salamay and his team can determine the exact source of pain in a patient's back or neck, allowing for effective, non-invasive treatment that offers real recovery.
The Bay Clinic of Chiropractic is the premiere wellness center in Panama City, Florida. From their new facility near the Bay Medical Center, Dr. Salamay and his highly trained staff offer a variety of services to help the community achieve lasting, sustainable wellness. In addition to the latest technological advances in testing and treatment, the Bay Clinic specializes in the fields of chiropractic medicine, functional medicine, and nutrition.
(Disclaimer: The patient and any other person responsible for payment has the right to refuse to pay, cancel payment or be reimbursed for payment for any other service, examination or treatment which is performed as a result of and within 72 hours of responding to the advertisement for the free, discounted or reduced fee services, examination or treatment.)
Contact:
Dr. Tony Salamay
Bay Clinic Of Chiropractic
520 N Macarthur Ave
Panama City, FL. 32401
(850) 785-9372