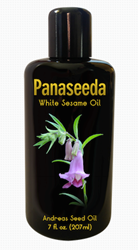 Anyone looking for the highest quality white sesame oil needs to see what Activation Products is doing with their Panaseeda White Sesame Oil.
Las Vegas, NV (PRWEB) December 24, 2013
Panaseeda White Sesame Seed Oil, a white sesame oil by Activation Products that aims at improving one's health by utilizing the power of white sesame seeds, has caught the attention of Shane Michaels, prompting an investigative review.
"There are a lot of sesame oil products on the market that claim to promote health, but most pale in comparison to the quality of the white sesame oil produced by Activation Products," reports Michaels. "Unfortunately, many people consume "healthy" oils that, due to their poor production and packaging, are actually more harmful for their bodies than beneficial because of rancidity levels. With activation products, consumers get pure, essential nutrients that truly promote whole-body health."
After a review of Activation Product's Panaseeda White Sesame Oil, Michaels shows that not only is this seed oil superior to other health oils due to its ingredients, but it also provides more powerful benefits because of the way it is extracted. White sesame oil contains one of the highest percentages of Vitamin E and calcium per gram than most other whole foods and seeds. Activation Product's uses a proprietary Instant Press method to extract the oil from the white sesame seed, which is then immediately bottled in violet glass to prevent light exposure. The oils produce zero-rancidity lab results, which is highly uncommon with other oils sold at retailers and health food stores. This process preserves all of the Vitamin E, B-complex vitamins, proteins, fats, and minerals, and provides them in concentrated form, just as if one were to consume the seeds.
"With its host of natural ingredients, white sesame oil is extremely nourishing and was even considered the absolute best oil for medicinal purposes by ancient Indian culture," said Michaels. "Their high mineral content helps strengthen muscles and bones, and omega-6 helps the body combat a myriad of diseases. Additionally, the seed's B-complex vitamins are great for skin, nerve, and digestive health."
"With the high quality production and bottling practices that Activation Products uses for this oil, consumers can enjoy a shelf life of up to 36 months, which is much longer than other sesame oil products on the market."
Those wishing to purchase Panaseeda White Sesame Oil or for more information, click here.
To access a comprehensive Panaseeda White Sesame Oil review, visit the official site of Activation Products here.