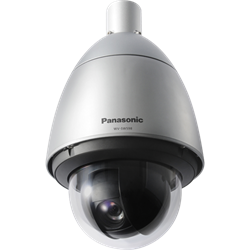 Panasonic builds IP cameras for every environment and industry.
Milwaukee, WI (PRWEB) February 17, 2015
Panasonic video surveillance solutions have been securing businesses since 1957, when they built the first security camera. Modern IP cameras from Panasonic include an incredible range of ultramodern features for securing any premises, and they are now available at IP Phone Warehouse.
Panasonic video surveillance equipment includes:

IP cameras
Encoders
Video recorders
Management software
The Panasonic WV-SW598 camera is an excellent example of how many features can be packed into a single surveillance endpoint. By delivering an all-in-one solution, this outdoor-ready camera can do the work of several cameras and devices at once, while still offering a low total cost of ownership.
Features onboard the Panasonic WV-SW598 camera:
90x extra optical zoom
Bi-directional audio support
Super dynamic range
360-degree panning
Motion and audio detection
Memory card slot
Panasonic builds IP cameras for every environment and industry. Find fixed dome cameras, box cameras, PTZ cameras and more form factors. They are designed to resist vandalism, weather and other conditions.
Deploy Panasonic surveillance solutions in business, education, government, healthcare and industrial settings. Easily migrate an analog or CCTV camera network to a new IP-based surveillance network, or completely revamp a struggling security strategy with Panasonic's high-tech solutions.
See IP Phone Warehouse's full inventory of Panasonic video surveillance solutions here: http://www.ipphone-warehouse.com/Panasonic-IP-Cameras-s/323.htm. Contact IP Phone Warehouse by phone: (888) 201-9056 or email: service(at)ipphone-warehouse(dot)com to learn more about IP cameras and Panasonic.
About IP Phone Warehouse
IP Phone Warehouse is the leading specialty reseller of VoIP phones, video conferencing equipment, IP cameras and network devices. We're stocked with everything that small businesses and enterprises need to deploy reliable VoIP and video solutions. A dedicated customer service team and a wide range of available online resources support every product at IP Phone Warehouse.