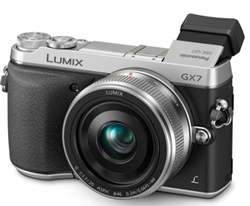 Panasonic Announces the LUMIX DMC-GX7 Digital Single Lens Mirrorless Camera—Available for Pre-Order at B&H Photo Video
New York, NY (PRWEB) August 01, 2013
The Panasonic LUMIX GX7 is a creative DSLM street camera that brings an artisan's vision to life. Smaller and sleeker than a DSLR, the LUMIX GX7 delivers the power of exceptional image quality in difficult to shoot street photos and video discreetly. Discover powerful optical quality and viewfinder accuracy, flexibility to control the creative process, and seamlessly switch between photo and video with the LUMIX GX7.
Tilt-able Live View Finder with Field Sequential Color Accuracy
The Panasonic LUMIX GX7 integrates a 90-degree tilt-able LVF (Live View Finder) delivering a new angle of view for flexibility and discretion in composition. The LVF boasts 2764K-dot equivalent high resolution and approximately 100% color reproduction for high visibility under any circumstances. Achieve a high color reproduction* in the display based on the field sequential system.
Seamless 16MP Photos and Full HD Video 1080/60p
The Panasonic DMC-GX7 is a hybrid creative camera featuring full-HD 1920 x 1080/60p smooth, high quality video recording in AVCHD Progressive and MP4 format with stereo sound. Full-time AF and tracking AF are also available in cinema-like 24p video with a bit rate of maximum 24 Mbps. 16MP P / A / S / M photo modes are available in video, delivering exceptional professional-like video recording by manually setting aperture and shutter speed.
In-Camera Stabilization for Non-Stabilized Lenses
The LUMIX GX7 incorporates an optical image stabilizer-like technology directly in the camera body. This in-camera LUMIX MEGA O.I.S. technology works as effectively with interchangeable non-optically stabilized lenses, to enjoy blur-free photography.
Focus Accuracy with Focus Peaking and Magnification Windows
For more precise control over focusing, the Panasonic LUMIX GX7 incorporates Focus Peaking that shows the peak of focus. The precise area of focus is indicated while viewing the subject in live view. Pin-Point AF allows one to set magnification from 3x to 10x. The One-Shot AF sets the rough focus on the subject where one can then go back to MF to adjust precise focus.
Share Instantly with Wi-Fi and One-Touch Device Connection with NFC
With the Panasonic Image App, one can use a smartphone or tablet to control zoom, set focus, and shoot remote from a distance. The Wi-Fi setup is quick and easy and picture data can be transferred to a designated electronic device right after shooting. Panasonic GX7 users can instantly upload and share images on to a Social Networking Service with a smartphone, and NFC (Near Field Communication) technology connects the camera with a smartphone or tablet by simply bringing them together.
Expand Creativity with a Full Line-Up of Lenses
The Panasonic LUMIX GX7 achieves ultra fast performance with a maximum 1/8000 shutter speed. In-body optical image stabilizer-like image stabilization delivers exceptional performance when mounting non-stabilized lenses to the LUMIX GX7. Every Panasonic LUMIX lens is exclusively designed for DSLM cameras taking advantage of digital technologies such as high-precision, high-speed Contrast AF.
Light Weight, Durable Magnesium Alloy Body
Dressed in a magnesium alloy, full die-cast frame, the LUMIX GX7 boasts high durability for any shooting situation. State-of-the-art imaging is delivered in a sophisticated, stylish metal body.
Precise Focusing with Contrast AF System
All LUMIX G cameras boast the sophisticated Contrast AF focus system. Compared with the Phase Difference AF focus system, Contrast AF delivers higher accuracy especially when shooting with a bright lens and a small F-stop. The LUMIX GX7 features quick Light Speed AF, making it possible to capture even the fastest moving subjects clearly.
B&H Photo a qualified Panasonic Authorized dealer with the most up to date Panasonic product information, product pricing and promotional offers. B&H Photo is currently accepting pre-orders on the Panasonic DMC-GX7 digital camera.
Connect with B&H Photo on the web! (Facebook, Twitter, Tumblr, Google+, Pinterest, Flickr, YouTube, B&H Insights & InDepth)
As the world's largest source of photography, video and audio equipment, B&H Photo-Video is known worldwide for their attentive, knowledgeable sales force, and excellent customer service, including fast, reliable shipping. Visitors to the website can access a variety of enlightening articles and educational videos. B&H has been satisfying customers worldwide for close to 40 years.