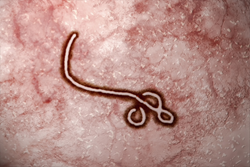 Businesses and employers should be proactive about Ebola-related legal questions and concerns that may arise in the workplace and put together a plan in case of an emergency
Woodbridge, NJ (PRWEB) October 30, 2014
Wilentz, Goldman & Spitzer, a New Jersey based law firm, is handling Ebola-related questions and concerns companies and businesses may have related to employment issues.
"Businesses and employers should be proactive about Ebola-related legal questions and concerns that may arise in the workplace and put together a plan in case of an emergency," said Dominick J. Bratti, shareholder on Wilentz, Goldman & Spitzer's Labor and Employment Law team.
The U.S. Department of Health and Human Services (HHS) recommends that employers be prepared in advance to deal with the unique workplace issues which arise in the event of a pandemic. The issues extend well beyond whether precautions by employers in high risk industries, such as the healthcare and mortuary fields, meet OSHA requests. Whether employers can question employees regarding their medical conditions and/or susceptibility to disease, whether employees returning from travel during a pandemic can be sent home and/or required to stay out of work for a certain period of time and whether the employer can take action against employees who refuse to come to work during a pandemic are only a few of the questions employers may need to answer this year in light of a potential Ebola outbreak in the United States.
As a result, HHS advises employers to begin pandemic planning in advance, and to start with appointing a pandemic coordinator or team of persons responsible for preparing for and responding to pandemic related issues. Because of the numerous employment laws which may be implicated, the Equal Employment Opportunity Commission also recommends that someone on the pandemic team be versed in employment law.
A number of employers in New Jersey last addressed these issues in 2009 when the H1N1 virus reached pandemic levels. Unfortunately, the current Ebola crisis threatens to have an even greater effect on the State's businesses. As a result, all employers, large and small, should consider having an emergency/pandemic plan in place.
Dominick J. Bratti is a shareholder with the law firm of Wilentz, Goldman & Spitzer, P.A. and represents employers in employment-related litigations, including all types of employment discrimination matters, sexual harassment, breach of contract and whistleblower litigation. He also advises employers throughout the country on employment law and labor relations matters. For more information about employment law and the recent Ebola pandemic, please contact Mr. Bratti at dbratti(at)wilentz(dot)com or 732-855-6127.
About Wilentz, Goldman & Spitzer, P.A.
Founded in 1919 by David T. Wilentz, the New Jersey-based law firm is committed to its clients and the legal profession, and has been at the forefront of numerous landmark cases and precedent-setting decisions. Wilentz has a diverse practice, serving both individuals and businesses with their legal needs. The firm offers legal services throughout the New York Metropolitan area and Pennsylvania with offices in Woodbridge and Eatontown, New Jersey, New York City, and Philadelphia. For more information about Wilentz, Goldman & Spitzer, visit http://www.wilentz.com.
Wilentz, Goldman & Spitzer is celebrating its 95th anniversary in 2014. It has been a privilege to serve clients for more than nine decades and the firm looks forward to continued success in the years ahead.