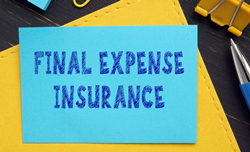 The average traditional North American funeral costs between $7,000 and $10,000, including services at a funeral home, burial in a cemetery, and the installation of a headstone.
LARGO, Fla. (PRWEB) August 23, 2021
COVID-19 has brought about many changes, including facing one's own mortality. According to CNBC, Americans have been "panic-buying" life insurance policies. Financial protection and death are now top-of-mind subjects of conversation across the nation.(1) "The need for online, quick and easy access to insurance is important, in particular to seniors," says Dave Rich, CEO of Ensurem, a Florida-based insurance technology and product distribution firm. "They are investigating insurance options because of concerns about final expenses and the desire not to burden their survivors with additional debt. "
Today, notes Rich, the average traditional North American funeral costs between $7,000 and $10,000, including services at a funeral home, burial in a cemetery, and the installation of a headstone.(2) An increasingly popular alternative, cremation is also relatively expensive, averaging between $4,000 and $7,000. The lowest-priced option, direct cremation costs between $2,000 and $5,000, depending on whether the family provides their own urn or cremation container.(3) The COVID-19 pandemic, which since the beginning of last year has claimed approximately 619,000 lives in the U.S.(4) has, as Rich notes, played a major role in heightening Americans' awareness of mortality and its attendant expenses.
"Our clients, primarily customers for Medicare Advantage and other Medicare-related plans, increasingly are asking about affordable life insurance. They're seeking to balance its cost against other health expenses such as Medicare health and supplementary insurance premiums or prescription drug costs. However, most term- and whole-life insurance policies available from many insurance companies rule themselves out due to medical and age restrictions and overly high premiums," says Rich.
There are, however, Rich notes, final expense policies that are smaller and less restrictive—since they do not require a medical exam—available in the market these days; for example, Ensurem's final expense insurance options. While the company has offered final expense quoting tools online and enrollment over the phone for several years, they recently launched a pure direct-to-consumer option that allows people to enroll into a final expense policy completely online without the need to speak with an agent.
One of the solutions this product offers is its online availability, making it quicker and easier for the beneficiary to enroll. Ensurem's online enrollment tool will guide shoppers through the entire process of choosing a coverage option, comparing quotes and enrolling into a final expense plan.
"Our goal, as always," says Rich, "is to serve as an advisor and trusted friend to seniors—which is why we are delighted to include final expense insurance policies among our online-enrollment offerings through. The loss of a family member is difficult enough without the added stress of sudden unexpected expenses."
About Ensurem:
Ensurem, headquartered in Largo, FL, is a leading technology and product distribution company serving carriers and consumers within the massive U.S. senior market. The company offers Medicare Advantage, Medicare Supplement, vision, dental, hospital indemnity and final expense insurance. It also provides end-to-end solutions for carriers, including product development, digital marketing and consumer-centric insurance technologies. For more information, please visit ensurem.com.
1. Iacurci, Greg. "Americans Are 'Panic Buying' Life Insurance Due to Coronavirus Pandemic." CNBC, 10 Nov. 2020, cnbc.com/2020/10/14/life-insurance-sales-increase-due-to-coronavirus-pandemic.html#:~.
2. "Funeral Costs: How Much Does an Average Funeral Cost?" Parting Blog, parting.com/blog/funeral-costs-how-much-does-an-average-funeral-cost/#:~:
3. "2021 Breakdown of Average Cremation Costs" Lincoln Heritage Life Insurance Company®, 26 Feb. 2021, lhlic.com/consumer-resources/cremation-costs/.
4. "CDC COVID Data Tracker." Centers for Disease Control and Prevention, covid.cdc.gov/covid-data-tracker/#datatracker-home.