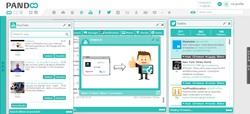 With PANDOO, we're making the most of this transformation by building a powerful, personalized operating system on the cloud.
Vancouver, BC (PRWEB) May 20, 2014
Pandoo TEK Inc. is out to change the way people everywhere interact with their computing devices—while bringing equal access to technology for everyone. The Vancouver-based technology company introduced its flagship project, PANDOO, the world's first way to turn any web browser into a powerful personal computer, on the crowdfunding platform Indiegogo (http://igg.me/at/pandoo-os). A portion of funds raised on Indiegogo will be split with the charity Computer Aid International to support Pandoo TEK's mission of promoting economic development through technology.
Pandoo TEK co-founder and President Michael Patellis said, "The days of being limited by your computing devices are ending. As more services migrate to the cloud, people will find it no longer matters whether they have the latest, most expensive machine. With PANDOO, we're making the most of this transformation by building a powerful, personalized operating system on the cloud."
PANDOO gives users a free account with a single login to access a desktop with their favorite apps, web services, social sites, email, and more. Unlike existing web-based dashboards, which aggregate shortcuts to other websites and platforms, PANDOO integrates apps and services into a customizable desktop, for a more personalized computing experience.
Contributors to the PANDOO Indiegogo campaign will be rewarded with perks ranging from early access to the API for developers, to a unique personalized app and desktop "skins" or themes, to a trip to Vancouver to meet the founders. Funds raised will go toward improving functionality of the PANDOO beta version, currently under development.
Pandoo TEK is also partnering with Computer Aid International, a UK-based charity that works to reduce poverty by collecting and refurbishing IT equipment for distribution in hospitals, schools and not-for-profit organizations in over 100 countries. Designated Indiegogo contributions of $100 or more will be split 50/50 with Computer Aid.
The PANDOO Indiegogo campaign begins on May 20, 2014, and runs for 45 days.
About Pandoo TEK Inc.
Pandoo TEK Inc. is the technology-focused company behind PANDOO: Your Personal Computer on the Cloud, based in Vancouver, British Columbia. Pandoo TEK is dedicated to improving the lives of people everywhere through smarter, personalized cloud computing. Visit the campaign at http://igg.me/at/pandoo-os and http://pandoo.cc for more information.